Professor Bayachou
Receives $421,000 NIH Grant
Dr. Mekki Bayachou, Professor of Chemistry, has received a $421,000 grant from the National Institutes of Health (NIH) for his R15 grant "Nitric Oxide Synthase-based Thin Films as Antithrombotic Coatings."
Many surgical interventions entail the introduction of devices such as intravascular catheters and sensors, grafts, and coronary artery and vascular stents. However, such devices lead to complications at the injured site, including clot formation, also known as thrombosis. 80% of vascular dysfunction is caused by graft thrombosis, which comes with an associated health-care cost of over $1 billion per year.
Nitric oxide (NO) is known to counteract thrombosis. NO-releasing materials have the potential to prolong vascular graft and stent potency without adverse results. NO-based coatings, while promising, are relatively limited because of the need for stable materials that are capable of sustained and prolonged NO release. This is partly due to the small amounts of NO-releasing material that can be incorporated in the coating.
The goal of Dr. Bayachou's three-year research project is to develop stable NO-releasing thin films that can be used as coatings for implantable medical devices. Dr. Bayachou's research lies at the heart of the treatment of cardiovascular disease, which claims the lives of 2,150 Americans each day.

Dr. Kathleen Stansberry joined CSU in fall 2014 as an assistant professor in the School of Communication. Her research is informed by her professional experience in public relations and social media marketing. Her interests include digital analytics and data analysis, online community development, and the use of social media in strategic communication campaigns. She is particularly interested in ways that strategic communication professionals can better analyze the influences of online, health-based communities.
The recent expansion of online and mobile communication platforms has created unprecedented opportunities for connecting around topics of shared concern. Dr. Stansberry studies how these interest-based communities create meaning, build collective power, and influence public opinion. Using a combination of online social network analysis and qualitative techniques such as rhetorical analysis, textual analysis, and narrative analysis, Dr. Stansberry explores information flow and the development of shared cognition within online communities. She studies the ways that e-patients are empowered through new media, and how they develop a sense of efficacy through collaborative communication.
Dr. Stansberry's current research examines cancer patients' and survivors' use of social media to actively engage in their care. She is also studying the counter-narratives that breast cancer bloggers develop in response to Pinktober marketing. She has published and spoken extensively on the use of social media by members of the young adult cancer community as a tool for information sharing, support, and advocacy.

Featured Researcher Video Series - Norbert Delatte
Research by Professor Norbert Delatte is the focus of the latest installment of the Featured Researcher Video series.
Professor Delatte earned his Ph.D. from the University of Texas at Austin in 1996. He served for 11 years on active duty as an officer in the United States Army Corps of Engineers. He is currently professor and chair of the Department of Civil and Environmental Engineering. His research interests include concrete pavement performance and rehabilitation, nondestructive testing, and the integration of failure case studies in the civil engineering curriculum. He is the editor of the ASCE Journal of Professional Issues in Engineering Education and Practice, a Fellow of the American Society of Civil Engineers, a Fellow of the American Concrete Institute, and the recipient of the 2013 Forensic Engineering Award.
We encourage you to learn more about Professor Delatte's research, and to take a look at our previous Featured Researcher Videos.

Dr. Ann Reinthal is an associate professor in the Physical Therapy Program in the School of Health Sciences. Her research focuses on motor control and learning, especially as related to developing clinical methods for effective and cost-efficient motor practice. She is particularly interested in using inexpensive technologies for rehabilitation, including commercial video gaming to improve balance and arm function after a stroke.
She has collaborated with CSU engineering professors (Drs. Zhao and Sridhar) to develop inexpensive sensor technologies to track practice repetitions as well as provide feedback about the accuracy of exercise performance. She is part of a team that was recently awarded Ohio Bureau of Workman's Compensation grant "Safe Patient Handling among STNA's in Nursing Homes: Compliance, Monitoring, and Continuous Quality Improvement of Best Practices." This grant integrates various sensor technologies and provides real-time feedback to nursing assistants to remind them to move in ways that prevent back injury.
Balance training is often not intense enough to provide significant improvements, so Dr. Reinthal is working with colleagues on a harness system in conjunction with video gaming to provide aggressive but safe balance training.

News from the Technology Transfer Office
Kalafatis Patent: A provisional patent application has been filed for Dr. Michael Kalafatis, titled Recombinant Prothrombin Analogues and Uses Thereof. The patent application includes a method of inhibiting coagulation in a subject who is at risk of developing blood clots.
Innovation Competition: Patents for Humanity is the United States Patent & Trademark Office's (USPTO) awards competition, and recognizes innovators who use game-changing technology to meet global humanitarian challenges. Applications are being accepted until December 4th. Faculty are encouraged to submit an application or contact the Technology Transfer Office with questions.
Patent Trolling: Much has been recently written about the pervasive business practice known as patent trolling. In light of the recent Wisconsin Alumni Research Foundation (WARF) vs. Apple, Inc. jury decision, the question has been asked in this NY Times article whether universities engage in a form of patent trolling.
Start-Up Companies: I-Corps@Ohio is a statewide program to assist faculty, staff, and students from Ohio universities, colleges, and community colleges in validating the market potential of technologies and launching start-up companies. Teams develop market-driven value propositions and scalable business models that attract seed, angel, and venture funding to support company formation and market entry, and to accelerate the growth of income and jobs in Ohio. For detailed information, please review the recently released RFP, or contact the Technology Transfer Office with questions.
Innovation and Economic Prosperity: A survey which is part of the University's application for the nationally recognized APLU Innovation and Economic Prosperity (IEP) Designation was emailed by the Office of Research at the end of October. The survey is a critical component of the application process. The TTO would greatly appreciate it if faculty take time to respond to the survey.

The Ohio Supercomputer Center (OSC) provides high-performance computing resources and expertise to the state of Ohio, and includes researchers in academia, industry, and government. OSC was established in 1987 by the Ohio Board of Regents, now the Ohio Department of Higher Education, and is located on the Ohio State University campus. OSC's goal is to be a strategic force for Ohio's economy and to position the state as a national competitor in science and technology.
OSC's supercomputers, mass storage systems, and software applications empower over 1,100 clients and 370 partners to innovate, develop new research and business opportunities, and lead Ohio's knowledge economy. OSC's Statewide Users Group (SUG), composed of faculty members across Ohio, guides OSC's user-related and technical operations.
OSC's next bi-annual Statewide Users Group meeting is scheduled for 10:30 am to 6 pm on Thursday, Dec. 3rd. The meeting will highlight new scientific developments produced with OSC resources, foster connections between OSC staff and the public, and obtain feedback for the future of OSC and its role in supporting science across Ohio. There will be flash-talk and poster sessions, and participants and winners will receive OSC computing hours. See here for details. For questions, contact Heidi Hamblin at hhamblin@osc.edu.

Professor Kaufman's Research in Physical Review
A paper co-authored by Dr. Miron Kaufman, "Phase transition and surface sublimation of a mobile Potts model," has been accepted for publication in Physical Review E, which is considered by many to be among the most prestigious physics journals in the world.
Dr. Kaufman's paper examines the sublimation of a solid into a gas. A familiar example of sublimation is the transformation of solid dry ice into vapor. Dr. Kaufman's co-authors are H. T. Diep, a professor of physics at the University of Cergy-Pontoise, and A. Bailly-Reyre, a PhD student who is working under Dr. Diep's supervision.
Dr. Kaufman's research in statistical physics has been published in over 100 refereed publications. The Physical Review has been published since 1893 by The American Physical Society, which is the world's largest physics society, and is the highest ranked journal in the world in the field of statistical and non-linear physics. Drs. Diep and Kaufman have been collaborating since 2007.

NSF Major Research Instrumentation Program
The proposal submission deadline for the NSF Major Research Instrumentation Program (MRI) is January 13th, 2016. The University may submit up to three (3) proposals, including a maximum of two (2) for instrument acquisition and one (1) for instrument development. Because of this limitation, the Office of Research is seeking to identify interested project directors and teams as soon as possible. The University is required to provide 30% of the total project cost. University policy requires that this cost-share be documented and approved in advance of proposal submission. All MRI proposals must be approved by the Office of Research prior to proposal development. See here for the Office of Research memo that details the University's MRI proposal requirements. See here for the NSF MRI proposal solicitation.

The NSF has issued a revised version of their Proposal & Award Policies & Procedures Guide (PAPPG). The new PAPPG will be effective for proposals submitted, or due, on or after January 25th, 2016. Given the number of important revisions, PIs are strongly encouraged to review the summary of changes provided in the introduction section of the PAPPG. The PAPPG is available here.

Successful Grant Writing Seminar
The Office of Research sponsored a successful grant writing seminar on November 6th, which was presented by Dr. John Robertson from Grant Writers' Seminars & Workshops, LLC. The full-day seminar was attended by 30 faculty members, ranging from first-year assistant professors to tenured full professors, and was focused on NSF and NIH proposals and on "writing to the review process." Participants scored the seminar very highly: on a scale of 1 (lowest) to 5 (highest) the average post-seminar evaluation score was 4.8. Some of the comments included: "really excellent," "extremely helpful," "very helpful," "very well done," "great information," "great speaker," and "fantastic workshop." The Office of Research will offer this grant writing seminar again next year.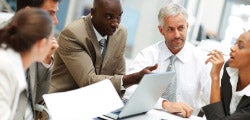 Some of the challenges in preparing large, interdisciplinary, or multi-institutional proposals include assembling a team, managing the inputs and documents that come from team members, gathering institutional content, and packaging the materials together in accordance with sponsor requirements. Other challenges include the search for suitable collaborators, the need for frequent meetings and communication with team members as the proposal deadline nears, and the development of a cohesive management plan.
All of these reasons are why the Office of Research is eager to facilitate the development of large, collaborative proposals for external funding. The Multi-College Interdisciplinary Research Program (MIRP) is one incentive that the Office of Research instituted to encourage proposal development. Additional staff will likely be added to the Office of Research to assist in proposal development. In the meantime, the current staff would be pleased to assist faculty in the development of large, collaborative proposals. Please contact Dan Simon at d.j.simon@csuohio.edu with questions or ideas.
_____________________________________________________________________________
Please share with us important news or updates on your research, scholarly, or creative activities. Updates may be related to a paper that has been accepted for publication in a high-impact journal, a book you've just published, your work that will be exhibited at a prominent institution, or other updates you wish to share with our office. Send details to j.yard@csuohio.edu and d.j.simon@csuohio.edu.
_____________________________________________________________________________
This newsletter is compiled and published by
The Office of Research