Table of Contents
CSU Receives $600,000 for Development of Ultraconductive Copper







CSU Receives $600,000 for
Development of Ultraconductive Copper
Cleveland State University received $600,000 in funding from the Ohio Board of Regents in order to support the continued development of an exciting and innovative new room-temperature wiring material called ultraconductive copper.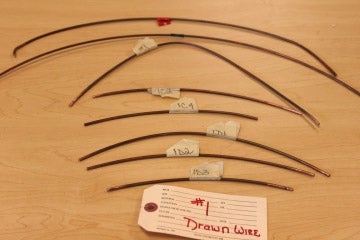 The funding supports work led by Taysir Nayfeh, professor in the Department of Mechanical Engineering, conducted in partnership with the International Copper Association. Read more here.

Dr. Hurtado Rúa, assistant professor in the Department of Mathematics, joined CSU this spring. She is interested in the development and application of Bayesian statistical methods to biological and clinical studies. Bayesian methods combine prior knowledge (prior information) along with data to model a particular system or answer questions about a problem of interest.
Dr. Hurtado Rúa's research interests include spatial statistics, survival cure rate models, multivariate meta-analysis and the application of statistical methods for neuroimaging. One project involves cancer cure rates: Traditional models do not explicitly allow for patients to be cured and consider independent survival times, but multicenter studies are common and observations within the same unit (hospital, county of diagnosis) may be correlated. Dr. Hurtado Rúa developed a methodology to model spatially/spatio-temporal clustered survival data with the possibility of cure.

"Concussion: A National Challenge" - Symposium in Cleveland
The National Academy of Engineering and the Institute of Medicine, two of the nation's premier independent academies, will present a symposium "Concussion: A National Challenge" that will take place right here in our own backyard.
On June 23-24, 2015 at the Global Center for Health Innovation in downtown Cleveland, top scientists in basic science, medicine and engineering will present and discuss the latest research on the prevention, detection and treatment of concussions, especially those sustained from automobile accidents, military missions and sports accidents. Our University is one of co-sponsors of the event, which is free and open to the general public but seating is limited so advanced on-line registration is required. In order to register and see the full agenda with the list of speakers please visit the symposium website.

Featured Researcher Video Series - Joan Thoman
Research by Dr. Joan Thoman is the focus of the latest installment of the Featured Researcher Video series.
Dr. Thoman is an Associate Professor and Coordinator of Community Health Nursing at Cleveland State University's School of Nursing. Her research focuses on workforce needs for an ever-shifting healthcare landscape. We encourage you to learn more about Professor Thoman's work, and to take a look at our previous Featured Researcher Videos.

Are you looking for the ultimate National Institutes of Health (NIH) grant application cheat sheet? The NIH has published an annotated form set to walk you through your application field-by-field and help you to avoid common errors in completing your application. These annotated forms include tips for completing many of the fields, including fields that are required by the NIH but are not marked required on the federal-wide form set. Although the NIH application guide and funding opportunity announcement are your primary sources of information about submissions, these annotated forms are a valuable resource to use in double-checking your application.

Dr. Tony Sahley, associate professor in the School of Health Sciences, recently published his book "Basic Fundamentals in Hearing Science" with Plural Publishing. Dr. Sahley co-authored his book with Dr. Frank Musiek of the University of Arizona.
The book is an approachable and straightforward textbook written primarily for undergraduate students preparing for graduate programs in speech therapy. Hearing science and speech therapy are multidisciplinary subjects rooted in physics, engineering, anatomy, physiology, cell biology and psychology. Dr. Sahley and his co-author draw on their many years of teaching and research experience to make this complex body of knowledge accessible to students.
_____________________________________________________________________________
Please share with us important news or updates on your research, scholarly, or creative activities. Updates may be related to a paper that has been accepted for publication in a high-impact journal, a book you've just published, your work that will be exhibited at a prominent institution, or other updates you wish to share with our office. Send details to j.yard@csuohio.edu.

CSU Leading Efforts to Improve Ohio's Economy through R&D
Cleveland State University, along with Ohio State and Wright State universities, led the efforts of the planning team in development of a five-year strategic plan for the Ohio Federal and Military Jobs Commission (OFMJC), which was signed into law by Gov. John Kasich.
The goal is to enhance Ohio's competitive position in order to retain, grow and leverage jobs associated with Ohio's significant military and federal installation assets. The strategic plan is focused on the improvement of Ohio's ability to attract and retain federal defense missions and growth of contracting and job opportunities in both the public and private sectors. CSU, along with LCCC, will lead Commercialization and Workforce Development Support for this initiative. CSU is also participating in four out of the six centers of excellence in the proposed research network.

News from the Technology Transfer Office
The Patent Review Committee met on June 4, 2015 to assess the invention disclosure of Dr. Wenbing Zhao, associate professor in the Department of Electrical Engineering and Computer Science. Dr. Zhao's invention is titled "Discriminative Human Motion Tracking" and is the underlying technology for a $246,000 study awarded from the Ohio Bureau of Workers' Compensation to evaluate and track patient handling techniques of health care workers.
The Patent Review Committee unanimously approved Dr. Zhao's invention to proceed for a provisional patent application filing. The Technology Transfer Office encourages faculty to contact the TTO regarding their innovative research.
The Cleveland State University Research Corporation (CSURC) held its Annual Board of Directors Meeting on June 1, 2015. The agenda included an amendment of the Master Agreement between the University and CSURC, which now provides CSURC the ability to work with faculty on industry consulting arrangements. Faculty consulting processed through CSURC will facilitate the administration of the consulting agreement and can allow faculty the use of University facilities and students for outside work. Please visit the CSURC website or contact Jack Kraszewski at x5108 with any questions.
_____________________________________________________________________________
This newsletter is compiled and published by
The Office of Research