Prof. Wu Receives NIH Subaward
Associate professor Yuping Wu in the Department of Mathematics has been awarded $174,600 from the Cleveland Clinic as part of an NIH research grant titled "Diet, Gut Microbiota and Heart Failure." During this five-year project, Dr. Wu will perform metagenomics analyses that involve mathematical modeling of large, complex datasets.
Metagenomics refers to the study of genetic sequences of groups of microorganisms, like those found in the human gut, rather than conventional genetic sequencing of individual species. Analyzing the complex data generated in metagenomic studies requires expertise like Dr. Wu's to identify relevant gene clusters and metabolic pathways.
Studies of symbiotic microbes that live in humans and other animal hosts are uncovering links to immune function, obesity, type 2 diabetes, and cardiovascular disease, among others. Dr. Wu has collaborated since 2009 with the Cleveland Clinic researchers who are leading the study, Drs. Wilson Tang and Stanley Hazen. Her understanding of high-dimensional data processing will be critical in this research investigating metabolites from gut microbiota that play a role in, and may lead to treatments for, atherosclerosis.

Assistant professor Jonathan Ring joined Cleveland State University in fall 2016 in the Department of Political Science. Dr. Ring received his Ph.D. in political science with an emphasis in international relations in 2014 from the University of Iowa. He then spent two years in the Department of Political Science at the University of Michigan as a postdoctoral research fellow and lecturer.
Dr. Ring studies norm diffusion, the process by which ideas and policies spread from one country to another. He focuses on human rights policy areas such as personal integrity rights protections, quotas for women's political representation, and LGBTQ anti-discrimination laws. In each of these areas, the world has recently witnessed dramatic changes in policy adoption, suggesting rapidly changing global norms. Policy implementation has been uneven, however, with some states professing support for human rights norms without enacting real change. Dr. Ring studies these issues by developing and applying theoretical and empirical mathematical models. He uses agent-based modeling to explore the processes of norm diffusion under a variety of assumptions about countries' motivations for expressing support for norms they do not intend to follow. He also contributes to the empirical understanding of human rights by addressing measurement problems associated with translating textual information into indexes of human rights practices.

Featured Researcher Video Series - Lolita Buckner Inniss
Research by Professor Lolita Buckner Inniss is the focus of the latest installment of the Featured Researcher Video series.
Dr. Inniss teaches several courses, including property law, comparative racism and the law, and real estate transactions. She has served in a number of campus leadership positions at CSU, such as secretary of the University-wide Faculty Senate and chair of the University-wide Admissions and Standards Committee. Her research addresses geographic, historic and visual norms of law, especially in the context of comparative constitutionalism, gender, and race. She is the author of dozens of articles, essays, and other writings that have appeared in the Texas Law Review, the Washington University Law Review, and other distinguished publications in the United States and beyond. Her current major research project is a book titled The Princeton Fugitive Slave: James Collins Johnson (Rutgers University Press), an account of race, gender, slavery and the law at Princeton University. Dr. Inniss is also one of the contributors to a volume titled International Law's Objects (Oxford University Press), a work addressing the legal and metaphoric aspects of various objects in international law.
We encourage you to learn more about Prof. Inniss's research and to take a look at our previous Featured Researcher Videos.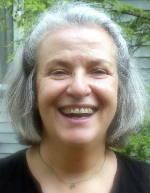 Sanda Kaufman is a professor of planning, public policy and administration in the Maxine Goodman Levin College of Urban Affairs, where she directs the Master of Arts in Environmental Studies Program. Her research spans negotiations and intervention in environmental and other multi-stakeholder public conflicts, social-environmental systems resilience, decision analysis, risk communication, program evaluation, and planning and negotiation pedagogy. The thread connecting these streams of research is the search for ways to include multiple perspectives in public decisions that will affect diverse communities whose members have different kinds of knowledge, needs, experiences, and interests, and who live in differently endowed places in the regional space. Her research is often interdisciplinary, including collaborations with scholars in planning, public administration, law, physics, organizational behavior, and statistics, and with conflict management practitioners. Her recent projects have focused on the governance and sustainable space management of "legacy cities" such as Cleveland, and on ways to anticipate polarized social conflicts such as those around high-stakes planning and environmental decisions.

With this edition of the Office of Research Newsletter, we are pleased to introduce the monthly feature "Inspired Creativity." This new feature will showcase the creative accomplishments of Cleveland State University artists, scholars, and researchers, all of whom are driven by their commitment to community and social impact.
Russ Revock, an associate professor in the Art Department, has created two new prints. In his own words, one print is "centered on an environment tainted by artifice and parasitism," and the other, which drew inspiration from a trip to the hospital, suggests a "frenzied depiction of various medical procedures."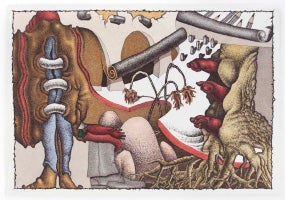 Staying Cool Among the Paperers
by Russ Revock
The elaborate process of creating these works began with a series of sketches from which moods and ideas began to take shape. The drawings were transferred to a zinc plate and etched using diluted nitric acid, a meticulous process that produced his image as a "negative."
Proofs were created with aquatint, a technique that added soft, flat values to the etching. Prof. Revock "edited" along the way by repeating the aquatint steps until he achieved degrees of shading that enhanced highlights and contrasts. He applied custom-mixed black ink to the entire surface of the plate and wiped the plate with a pad of tarlatan, which left ink deposited in the etched lines. Dampened paper was placed over the plate and the plate was run through an etching press. The process was repeated for each print, followed by careful inspection for any flaws.
Prof. Revock produced hand-colored and monochromatic editions of both prints, with a total of five prints per edition. The hand-colored prints contain both oil paint and watercolor, and have been accepted in three national juried competitions. "Symphonic Exploratory Battery" and "Staying Cool Among the Paperers" can be viewed at russrevock.com.

News from the Technology Transfer Office
Invention Disclosure Pipeline
The Technology Transfer Office (TTO) is currently reviewing the invention disclosure for a secure mobile device connection technology submitted by associate professor Ye Zhu in the Department of Electrical Engineering and Computer Science. Dr. Zhu's invention, A Key Agreement Protocol for Wearable Devices, Medical Devices, and Mobile Devices, enables two or more wearable mobile devices to communicate and share data securely via a novel key agreement protocol. The technology has been under development for over one year in collaboration with faculty from Iowa State University.
Technology Validation and Start-up Fund (TVSF)
Two faculty members, assistant professor Moo-Yeal Lee in the Department of Chemical and Biomedical Engineering and associate professor Ye Zhu in the Department of Electrical Engineering and Computer Science, are working with the TTO to prepare an application for TVSF funding.
Ohio Third Frontier created the TVSF to support economic growth through start-up companies that commercialize technologies developed in Ohio's higher education and not-for-profit research institutions. Proposal submissions for the 2016 Round 13 RFP are due December 15, 2016. Written questions regarding a submission must be received by Ohio Third Frontier by December 8, 2016.
Proposal submissions to TVSF must be coordinated with the TTO. The TTO can also provide assistance with proposal submissions. Please contact Jack Kraszewski if you intend to submit a TVSF proposal.

CSU and St. Vincent Charity Announce New Partnership
Cleveland State University and St. Vincent Charity Medical Center entered into a new partnership that will create new opportunities for health-care research and education. The collaboration will provide CSU's faculty, researchers, and students with more opportunities to engage with St. Vincent Charity clinicians and doctors, which will help to develop health-care professionals who can address the needs of Cleveland's neighborhoods.
Already, Jason Halloran, an assistant professor in the Department of Mechanical Engineering, and surgeons in St. Vincent's Spine & Orthopedic Institute are working together to improve rehabilitation techniques and create new prosthetic technologies. Additionally, there is collaboration between St. Vincent Charity and the College of Sciences and Health Professions, the Cleveland-Marshall College of Law, and the School of Nursing, with the promise of much more to come.
The agreement was announced with strong support from President Ronald Berkman and St. Vincent Charity Medical Center President and CEO David F. Perse, and a video highlighting the expanded relationship between the two institutions can be seen here.

Undergraduate Research Leads to Peer-Reviewed Journal Paper
Professors Eddie Lam and Ken Sparks from the Department of Health and Human Performance have written a manuscript titled "Physiological responses and exercise preference between the Trikke and the bicycle ergometer," which has been published in the Journal of Exercise Science & Fitness. The research team examined physiological responses and perceptions of "fun" by study participants during exercise sessions utilizing both a Trikke (see photo at right) and a bicycle ergometer.
Click here to read the journal article online. The research was funded by the Undergraduate Summer Research Award Program at CSU, and the paper is co-authored by undergraduate students Allison Lowe and Davon Jones. Congratulations Allison and Davon!

Educational Research Opportunities at CSU
Cleveland State faculty with interests in education and child and adolescent development are encouraged to participate in a collaborative action research project at Campus International School (CIS) and MC2STEM High School, both located on CSU's campus. CSU's Center for Urban Education (CUE) will fund projects that partner CSU faculty with K-12 educators to identify a research problem, structure inquiry, and consider how findings may shape future practice.
To learn more about this opportunity and how to apply for an action research project grant through the CUE, please attend an information session on Tuesday, October 18 from 12:00 - 1:00 p.m. in Julka Hall 391.
For more information, please contact: Adam Voight, Director, Center for Urban Education, a.voight@csuohio.edu.

Looking for Funding? SPIN Online Tutorials Can Help
Are you looking for funding to conduct research or scholarly activities? SPIN is an online tool that is available to CSU faculty to help find external grant opportunities. SPIN provides customized searches of grant opportunities offered by more than 10,000 global sponsors. Infoed Global, the creators of SPIN, have made a series of online tutorials that will help you learn to uncover funding opportunities.
Don't have a SPIN account yet? Follow these simple instructions to sign up, or fill out this form if you would like the Office of Research to help you get your account started.
_____________________________________________________________________________
Please share with us important news or updates on your research, scholarly, or creative activities. Updates may be related to a paper that has been accepted for publication in a high-impact journal, a book you've just published, your work that will be exhibited at a prominent institution, or other updates you wish to share with our office. Send details to j.yard@csuohio.edu and d.j.simon@csuohio.edu.
_____________________________________________________________________________
This newsletter is compiled and published by
The Office of Research