Rehabilitation Technology Research for Undergraduates
Eric Schearer, an assistant professor in the Department of Mechanical Engineering, has been recommended for funding by the National Science Foundation (NSF) to establish a Research Experiences for Undergraduates (REU) Site at CSU. The project, titled "Engineering and Computing in Rehabilitation and Assistive Technology," has been recommended to receive $391,825 in funding over three years. Ann Reinthal, an associate professor in the School of Health Sciences, is the Co-PI.
The REU Site will train undergraduates recruited from around the country to develop technologies that address the challenges facing people with disabilities. The program will welcome 10 undergraduate students to the CSU campus for a 10-week program during each of the next three summers. Those students will leverage sensing and computing technologies to develop devices and therapy techniques to restore mobility and functional independence to people with reduced movement of their arms or legs.
The vision of Drs. Schearer and Reinthal is that the REU program will train a diverse group of students who are motivated and prepared to pursue careers in rehabilitation research, and that the program will serve as a model for undergraduate research at CSU and across the country.

Janine Spears, Department of Information Systems
Dr. Janine Spears joined the Department of Information Systems as an associate professor in fall 2016. She holds a PhD from the Smeal College of Business at Penn State University, an MBA from Case Western Reserve University, and a B.S. in computer information systems from California State University, Los Angeles.
Dr. Spears is an expert in information security risk management and applies a business-driven approach to analyzing risk within operational work processes. Her threat modeling methods provide a visual representation of security risk and have been found to be an effective method for communicating to end users and systems developers. End user participation in constructing these visual diagrams has been seen to raise organizational awareness of security risk and contribute to more effective designs and performance of security safeguards.

Featured Researcher Video Series

Conor McLennan

Research by Associate Professor Conor McLennan is the focus of the latest installment of the Featured Researcher Video series. Dr. McLennan is the Director of the Language Research Laboratory at CSU and explores the representations and processes involved in the perception of spoken language. Click here to watch.

FLSA Ruling, NIH Response

As highlighted in our newsletter last month, the Department of Labor issued revisions to the Fair Labor Standards Act (FLSA) requiring overtime pay for workers making less than $47,476. A federal judge has blocked implementation of the overtime rule, and Congress has introduced bills to delay or phase in the rule.

The University has determined that it will not implement the new regulations until a final ruling is issued. However, NIH intends to raise the stipends of certain biomedical postdocs in spite of the court decision. Further information can be found in this post by the Secretary of Labor and the Director of NIH, and this article published in Science.

Robert Abelman, Understanding Children and Media
Bob Abelman is a professor in the School of Communication and a recipient of the CSU Distinguished Faculty Research Award. His research focuses on how young children process mediated information and learn to distinguish reality from televised fantasy, educational fare from entertainment, and entertainment from advertising. As a children's television program consultant, his research has helped guide production choices and character development in "Sesame Street," "Barney," and "The Wumblers" and has resulted in testimony before the Federal Communications Commission on V-chip legislation and the television ratings system.
Dr. Abelman's work with intellectually and artistically gifted children and learning-disabled children has been honored with multiple "Excellence in Research" awards from the Mensa Education and Research Foundation. In 2010, he was selected to serve as a fellow at the National Endowment for the Arts (NEA) Arts Journalism Institute at USC Annenberg.
Dr. Abelman joined CSU in 1981 after earning advanced degrees from the University of Texas at Austin and Michigan State University. He has been recognized as one of the "Top 100" most prolific scholars in Communication by Communication Quarterly and a "Top 100 Researcher in the Field of Communication Studies" by Communication Monographs.

Cigdem Slankard, Documentary on a Refugee Community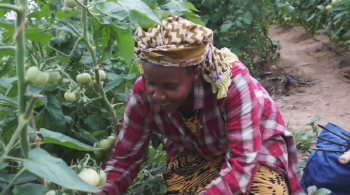 Cultivation, a documentary directed by Cigdem Slankard
Cigdem Slankard, an assistant professor in the School of Communication, recently completed a documentary titled Cultivation.
Cultivation is an observational documentary focused on a refugee community in rural New Hampshire. It chronicles the lives of three Somali-Bantu women who came to the US with one marketable skill, farming. Cultivation is the story of these farmers with no farm, and examines the American identity, the value of land, and food in a brave new world.
The documentary is currently featured in an exhibition at the SPACE Gallery in Pittsburgh, and a trailer can be viewed here.

News from the Technology Transfer Office

I-Corps@Ohio: Deadline January 10

The I-Corps@Ohio program recently released the 2017 Request for Proposals, which can be viewed here. The program provides a $15K grant to aspiring entrepreneurial teams for training to better understand the market for their technology, develop a compelling commercialization strategy, and learn skills that will be useful for a long-term career in research and development. The deadline for applications is January 10.

Completion of the I-Corps@Ohio program will also provide teams with priority status for TVSF funding. CSU has submitted a proposal for TVSF Phase 1: Track B funding which, if awarded, will be administered by the CSU TTO.

An informational webinar about the I-Corps@Ohio program and application process is scheduled for December 16 from 12:30 to 1:30 pm. Please note that all I-Corps@Ohio teams from CSU must be approved by the TTO. Contact Jack Kraszewski if you are interested in applying.

Notice of Allowance

The US Patent and Trademark Office (USPTO), has notified Cleveland State that the USPTO intends to issue a patent for the application titled Electrochemical System and Method Thereof. The technology was developed by Dr. Siu-Tung Yau, a professor in the Department of Electrical Engineering and Computer Science, and the patent has been licensed for a limited field of use to ProteoSense, LLC to detect pathogens in the food supply chain.

Invention Disclosure Pipeline

A provisional patent application has been filed for Dr. Moo-Yeal Lee's invention Pillar and Well Structures for Microarray 3D BioPrinting. Dr. Lee is an assistant professor in the Department of Chemical and Biomedical Engineering.

The Copyright Review Committee approved the invention disclosure of Dr. Byron White, Vice President for University Engagement. The copyright will protect Dr. White's creative work and the underlying structure of his Career Lines assessment tool.

Undergraduate Researcher Receives Conference Award
John Juchnowski, an undergraduate student in the Department of Chemical and Biomedical Engineering, won an award for his research poster "Scalable Assembly of Nanoparticles onto Templated Substrates" at the 2016 American Institute of Chemical Engineers Annual Student Conference in San Francisco. The conference attracted students and faculty from around the world, including 535 student posters.
John's work was supported by an Undergraduate Summer Research Award and he was co-advised by assistant professors Jessica Bickel and Chris Wirth. His poster generated interest from both academic and industry attendees at the conference. Congratulations, John!

Budget Problems? SPRS Can Help!
Developing a proposal budget and navigating Cayuse can be challenging, especially for new faculty. The Sponsored Programs and Research Services (SPRS) team wants to help every CSU researcher create successful proposals.
Writing a proposal and need help developing a budget? We can assist you in developing a budget that includes salary, student support, participant support, equipment, travel, and any other budget items. Faculty and staff in Business, Education, CLASS, and Central Administration should contact Teri Kocevar, Director of SPRS, at x3675 or m.kocevar@csuohio.edu. Faculty in Engineering, Science, Law, Nursing, and Urban Affairs should contact Lisa Franklin, Assistant Director, at x3607 or l.franklin@csuohio.edu.
Do you need help entering your budget in Cayuse? If you provide us with the budget items listed here, we will enter it in Cayuse. Based on your college affiliation as listed above, send your budget to either Teri Kocevar or Lisa Franklin. After we enter your budget in Cayuse, you will still be able to tweak the budget before you route the proposal for approval by your Chair and Dean.
We strive to respond to all faculty inquires within one business day. Please contact Teri Kocevar if you are not receiving timely responses to your requests.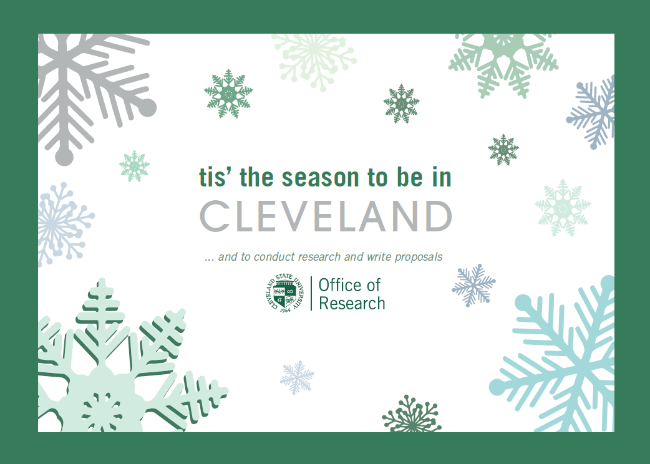 The Office of Research wishes all faculty, staff, and
students a peaceful and joyful holiday season.
The holiday card used in this edition was designed by Nicole Zollos, a Graphic Design Student at CSU.
_____________________________________________________________________________________________
Please share with us important news or updates on your research, scholarly, or creative activities. Updates may be related to a paper that has been accepted for publication in a high-impact journal, a book you've just published, your work that will be exhibited at a prominent institution, or other updates you wish to share with our office. Send details to j.yard@csuohio.edu and d.j.simon@csuohio.edu.
_____________________________________________________________________________________________
This newsletter is compiled and published by
The Office of Research