Table of Contents






MATLAB License to be Available Soon at No Charge


Prof. Bin Su Receives
$240,000 Research Award
Prof. Bin Su, an associate professor in the Center for Gene Regulation in Health and Disease (GRHD) and the Department of Chemistry, is receiving additional funding for his project "Targeting EphA2 in Glioblastoma," which is an ongoing collaboration with Prof. Bingcheng Wang in the Case Western Reserve University School of Medicine.
Prof. Su is developing a novel agent for the treatment of glioma, which is a type of tumor that starts in the brain or spine. Prof. Su's laboratory has synthesized 40 new chemical compounds in their search for an effective glioma treatment. One of their new compounds has shown promising potency and selectivity in targeting EphA2, which is a protein that is closely associated with glioma. Prof. Su's research focuses on the determination and optimization of the absorption, distribution, metabolism, and excretion of new compounds for the treatment of glioma. The research is funded by an R01 grant from the National Institute of Neurological Disorders and Stroke via CWRU, and has a projected award period of five years.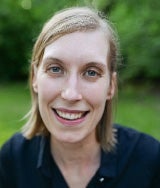 Prof. Jenna Van Sickle joined CSU as an assistant professor of mathematics education in the Department of Mathematics in fall 2015. Prof. Van Sickle received her Ph.D. in mathematics education from Columbia University in 2011, and held a tenure-track position at Fontbonne University in St. Louis before coming to CSU.
Prof. Van Sickle's research focuses on curriculum and pedagogy in secondary and post-secondary mathematics. She also studies the history of mathematics education insofar as it can inform the future of mathematics education. She has recently researched flipped classrooms in the university setting and has published two journal articles on the topic. She is interested in various approaches to student-centered learning, and in addition to flipped classrooms she has studied project-based and inquiry-based learning.
Prof. Van Sickle is currently working on the design and implementation of a curriculum that draws on the history of trigonometry education to create new ways for students to understand the connections between triangle trigonometry and circle trigonometry. Prof. Van Sickle will help high school students use dynamic geometry software to explore trigonometric concepts that date back to the ancient Greeks, and connect them with ways of understanding and using trigonometry today.

Featured Researcher Video Series - Andy Resnick
Research by Prof. Andy Resnick is the focus of the latest installment of the Featured Researcher Video series.
Prof. Resnick is an associate professor in the Center for Gene Regulation in Health and Disease (GRHD) and the Department of Physics. Prof. Resnick's research has two main tracks: the biological function of sensory cilia that controls cell and tissue responses to applied fluid motion, and the development of methods to optically probe soft matter. The experimental tools that Prof. Resnick uses include epithelial tissue culture and electrophysiology, microscopy and laser tweezers, microfluidics, and analytical modeling. The biological systems that Prof. Resnick is currently investigating include kidney and airway epithelial tissue. The hypothesized connection between fluid flow stimulation and physiological responses in the context of tissue maintenance and repair has relevance to autosomal dominant polycystic kidney disease, cystic fibrosis, acute kidney injury, ischemia-reperfusion injury, and increasing the success of organ transplants. Prof. Resnick's work is highly multidisciplinary, reflecting his philosophy that research results must cross bridges between disciplines to meaningfully contribute at the forefront of knowledge.
We encourage you to learn more about Prof. Resnick's research and to take a look at our previous Featured Researcher Videos.

Prof. Anne Su is an assistant professor in the School of Health Sciences. Her multidisciplinary background and interests involve the integration of research from engineering (human and animal gait mechanics, and joint and tissue biomechanics), health sciences (anatomy and radiology), anthropology, and paleontology. Prof. Su's research focuses on musculoskeletal biomechanics, functional morphology, and human skeletal evolution.
Prof. Su is currently investigating the comparative and functional biomechanics of the human foot and ankle, with the hypothesis that different modes of locomotion will be manifested in distinct internal and external bone morphology. The results of these data are being applied to the functional analysis of Plio-Pleistocene fossil hominin bones from East and South Africa to help understand the origin of human bipedal locomotion. Prof. Su's other research projects investigate the relationship between skeletal morphology and function by examining differences in bone properties among populations that vary in activity level.
Prof. Su holds bachelor's and master's degrees in mechanical engineering from Case Western Reserve University and the University of Michigan, respectively. She worked as a research engineer in biomedical engineering at the Cleveland Clinic Lerner Research Institute before receiving her doctoral degree in biological anthropology from Stony Brook University. She began her career at CSU in 2011.

News from the Technology Transfer Office
CSU's First I-Corps@Ohio Participants
The CSU Team of associate professor Ye Zhu and doctoral candidate Jonathan Gurary in the Department of Electrical Engineering and Computer Science, along with executive mentor Aaron Bates, was selected as one of 20 teams to participate in the 2016 I-Corps@Ohio cohort. Their mobile communication authentication technology has been funded by the National Science Foundation. The I-Corps@Ohio curriculum is designed to help aspiring entrepreneurial teams understand the market for their technology, develop a compelling commercialization strategy, and attain new skills that will be useful for a long-term career in research and development.
Prof. Chansu Yu Obtains Patent
The Korean Intellectual Property Office has granted a patent to Prof. Chansu Yu, Chair of the Department of Electrical Engineering and Computer Science, titled Method for Tethering of Terminal and Apparatus Therefor. The patent was filed in conjunction with inventors from Pohang University of Science and Technology, South Korea.
Technology Validation and Start-up Fund (TVSF)
The Ohio Third Frontier through the TVSF has recently released its first 2016 RFP. The TVSF is designed to: (1) Support protected technologies developed at Ohio research institutions that need validation and proof that will directly impact and enhance their commercial viability and their ability to support a start-up company; and (2) Support Ohio start-up and young companies that license these validated and proven technologies from Ohio research institutions. Please contact Jack Kraszewski of the CSU TTO if you intend to submit a proposal.

Prof. Anton Komar, the director of the Center for Gene Regulation in Health and Disease (GRHD) and a professor in the Department of Biological, Geological and Environmental Sciences, has been invited to give platform presentations at two international meetings: the Ribosome Structure and Function 2016 Meeting, which will be held in July in Strasbourg, France, and which will include three Nobel laureates; and the Drug Discovery and Therapy World Congress 2016, which will be held in August in Boston, and which will include four Nobel laureates.

Prof. Kathie Judge from the Department of Psychology has been invited as a Distinguished Visiting Scholar for a one-week visit to the Chinese University of Hong Kong. The purpose of the Distinguished Visiting Scholar Program is to invite renowned scholars to conduct in-depth research exchanges through lectures and to develop long-term international research collaborations. The Chinese University of Hong Kong is interested in translating Prof. Judge's innovative interventions in care models to enhance dementia caregiving.


Professors Moo-Yeal Lee and Chandra Kothapalli
A video highlighting the bioprinting research of Prof. Moo-Yeal Lee and Prof. Chandra Kothapalli, assistant professors in the Department of Chemical and Biomedical Engineering, was highlighted at the 3D Printing Annual Conference in April.
Recent advances in three-dimensional (3D) bioprinting offer new opportunities for creating highly organized multicellular tissue constructs by precisely placing multiple human cell types in hydrogels in a layer-by-layer fashion with printing robots. This technology, as illustrated in the video, could potentially revolutionize the fields of regenerative medicine, oncology, and drug discovery as these 3D printed human tissues can be used as ex vivo disease models for screening therapeutic drugs, ultimately enhancing the predictability of preclinical evaluations.
Prof. Lee and Prof. Kothapalli use their technology to create miniaturized human tissues on a micropillar/microwell chip platform by mimicking the microenvironment of native human tissues. Prof. Lee and Prof. Kothapalli plan to implement their technology to predict chemical toxicity and identify pharmacologically safer and more effective drug candidates. Click here to view the movie.

MATLAB License to be Available Soon at No Charge
Cleveland State will soon obtain a University-wide license from MathWorks for MATLAB and Simulink software. MATLAB and Simulink software are widely used for mathematical computation, analysis, visualization, and algorithm development in science and engineering.
This license is the culmination of a long-time effort by the Office of Research to bring software to faculty, students and staff for teaching and research. The software that will be available under the license includes:
1. MATLAB
2. Simulink
3. Bioinformatics Toolbox
4. Control System Toolbox
5. Curve Fitting Toolbox
6. Data Acquisition Toolbox
7. DSP System Toolbox
8. Image Processing Toolbox
9. Instrument Control Toolbox
10. Optimization Toolbox
11. Parallel Computing Toolbox
12. Signal Processing Toolbox
13. Statistics and Machine Learning Toolbox
14. Symbolic Math Toolbox
15. SimMechanics
16. SimScape
17. Simulink Control Design
18. Stateflow
Users who need additional toolboxes will be able to purchase them through child licenses. Most additional toolboxes will cost $200 per year, although some are $500 per year. The CSU license will allow unlimited software use and installation on both CSU and home computers to all CSU faculty, staff, and students. CSU is planning for a July 1 release of the new license.

Research America Forum at NEOMED
A discussion of biomedical research in industry, health care, government, and higher education will be held at the Research America Forum on June 6. The event will be held at the Northeast Ohio Medical University Education and Wellness Center in Rootstown, Ohio. The event is free and includes lunch. Click here to register.

FSI, FRD, and DRA Awards Announced
The Office of Research internal funding program decisions are summarized as follows.
33 Dissertation Research Award (DRA) proposals received and 17 funded.

30 Faculty Scholarship Initiative (FSI) proposals received and 22 funded, including 14 from the College of Liberal Arts and Social Sciences. The FSI awards typify the variety of scholarship at CSU, including marketing, art, communication, health, literature, religion, climate change, and many others.

26 Faculty Research Development (FRD) proposals received and 8 funded, including 5 from the College of Sciences and Health Professions. These awards promise to culminate in external funding proposals to the NSF, NIH, and other agencies.
These funding decisions, which were made by the University Research Council (URC) after many hours of deliberation, were difficult because of the many excellent proposals that were submitted. The Office of Research would like to thank all of the faculty and students who submitted proposals, as well as the URC for their careful work in reviewing the proposals.
_____________________________________________________________________________
Please share with us important news or updates on your research, scholarly, or creative activities. Updates may be related to a paper that has been accepted for publication in a high-impact journal, a book you've just published, your work that will be exhibited at a prominent institution, or other updates you wish to share with our office. Send details to j.yard@csuohio.edu and d.j.simon@csuohio.edu.
_____________________________________________________________________________
This newsletter is compiled and published by
The Office of Research