Table of Contents





Last Chance to Register for the Fall 2016 Grant-Writing Seminars


Best Poster Prizes Awarded to Undergraduate Research Students




The Faculty Expertise Database - Connect Your Research to the World
The Office of Research is excited to welcome 73 new faculty to Cleveland State University, including 47 tenured/tenure-track faculty. The mission of the Office of Research is to provide faculty with the resources and services that they need to be successful in research and scholarship. Our resources include proposal-writing seminars, internal research and travel awards, student research awards, a University-wide MATLAB® license, and much more. Visit the Office of Research web page for details.
Prof. Su Receives NIH Research Award
Prof. Bin Su of the Center for Gene Regulation in Health and Disease (GRHD) and the Department of Chemistry has received an Academic Research Enhancement Award (R15) from the National Institutes of Health (NIH) for his project "Selective tubulin inhibitors with improved cell update for kinetoplastid infections." The three-year award provides $436,500 in funding for Dr. Su to collaborate with GRHD member Dr. Bibo Li to develop new drugs to treat human African trypanosomiasis (sleeping sickness). The disease is prevalent in sub-Saharan Africa and is caused by the protozoan parasite T. brucei, which is transmitted by certain species of tsetse flies.
Current treatments for trypanosomiasis involve the injection of highly toxic drugs which have limited effectiveness, and the development of treatments has not been a focus of the pharmaceutical industry. Dr. Su's research involves drug candidates which can be administered orally and with minimal toxicity to the patient. These drug candidates specifically target a protein called tubulin, which allows T. brucei and similar disease-causing protozoans to replicate quickly. Tubulin is also used to create flagellum, which allows these single-celled organisms to move and is a key to their survival. While tubulins are also present in human cells, it is structurally different than those found in T. brucei and its cousins. The drug candidates that Dr. Su and his team are developing target the tubulins of these kinetoplastids.
Sleeping sickness remains on the World Health Organization's list of neglected tropical diseases. Dr. Su, Dr. Li, and the undergraduate and graduate researchers in their laboratories at CSU are working to develop optimal drug compounds to help eradicate it.

Maureen Whitford, Ph.D., P.T., joined Cleveland State University in fall 2014 as an assistant professor in the Doctor of Physical Therapy Program in the College of Sciences and Health Professions. Dr. Whitford received her Ph.D. in rehabilitation science with a focus on recovery after stroke in 2010 from the University of Minnesota. She completed her postdoctoral fellowship at the National Rehabilitation Hospital and Georgetown University in 2011. Prior to joining CSU, Dr. Whitford held tenure-track positions as an assistant professor at Walsh University and at the University of South Alabama.
Professor Whitford studies the recovery of function after stroke, with a special interest in the relationship between behavioral changes and neuroplasticity, which is the brain's ability to reorganize itself and create new neural pathways. She is especially interested in gaining insight into motor control and learning post-stroke to develop more effective rehabilitative intervention techniques, including those related to bimanual coordination. She currently studies these questions in humans, primarily using the upper extremity (shoulders, arms, wrists, and hands) as a model. At CSU she has carried out studies with individuals both healthy and post-stroke using wrist-worn sensors to quantify arm use and provide feedback. Dr. Whitford also co-led an interdisciplinary, intergenerational team for a CSU-funded civic engagement project that developed a video series of activities and exercises for homebound seniors in Cleveland that is aired daily by TV20.
In addition to these research interests, Dr. Whitford has a passion for physical therapy and for teaching future physical therapists, occupational therapists, and other health practitioners. She has been a physical therapist for over 23 years, practicing across many settings, with a focus on neurorehabilitation. She is an active member of the American Physical Therapy Association and the Ohio Physical Therapy Association.

Featured Researcher Video Series - Oya Tukel
Research by Prof. Oya Tukel is the focus of the latest installment of the Featured Researcher Video series.
Oya Tukel is a professor of Operations and Supply Chain Management in the Monte Ahuja College of Business. Dr. Tukel's research focuses on efficient project scheduling techniques that managers can use for complex projects. Project complexity comes from two main factors: precedence relations among tasks and the limited resources that need to be allocated to those tasks. Dr. Tukel has developed several exact and heuristic algorithms that provide feasible or near-optimal schedules for complex, resource-constrained projects. Project scheduling techniques are needed in a variety of diverse industries, from construction to new product development. Scheduling thousands of activities and hundreds of resources in a project is a combinatorial problem and as such is impossible to solve optimally regardless of advances in computer technology. As a result, efficient heuristic algorithms are usually embedded in project management software such as Microsoft Project. Several of Dr. Tukel's algorithms are employed in commercial software and her research is commonly referenced in the literature.
We encourage you to learn more about Prof. Tukel's research and to take a look at our previous Featured Researcher Videos.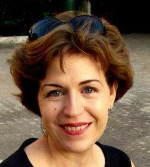 Brooke Conti is an associate professor in the English Department at Cleveland State University. Her research explores the intersection of religion, politics, and literature in seventeenth-century England. She is particularly interested in the lingering effects of national and familial trauma, such as the Reformation and the English Civil War, on both the individual and collective imagination. Her first book, Confessions of Faith in Early Modern England (University of Pennsylvania Press, 2014), examines the peculiar relationship between autobiography and polemic in the works of writers such as John Donne, John Milton, and King James I. By arguing that the tension between the era's religious and literary cultures simultaneously inspired autobiography and foreclosed its possibility, her book shows that it was no easy matter for early modern Britons to tell the truth of their religious lives, even to themselves.
In addition to her book, Dr. Conti has published articles on Milton, Shakespeare, and Donne; the doctor and essayist Thomas Browne; and the preacher Lancelot Andrewes. She is co-editing an edition of Thomas Browne's Religio Medici for Oxford University Press and is also working on a second monograph, tentatively titled "Religious Nostalgia from Shakespeare to Milton." Her research has been supported by grants and fellowships from the Princeton Rare Book Collection, the Beinecke Rare Book and Manuscript Library at Yale University, the Harry Ransom Humanities Research Center at UT-Austin, and the New York Council on the Humanities. Before joining the faculty of Cleveland State, she held appointments at Temple University and SUNY-Brockport, where she received tenure in 2012. She holds B.A., M.A., and Ph.D. degrees from Yale University.

Last Chance to Register for the Fall 2016 Grant-Writing Seminars
Registration Deadline September 20 at 5:00 p.m.
There are still a few seats left for the grant-writing seminars this fall, but the registration deadline is quickly approaching! The October 14 seminar will focus on arts and humanities, and the October 21 seminar will focus on NSF and NIH proposals. The seminars will be conducted by Grant Writers' Seminars & Workshops, LLC, which has presented seminars to over 250 universities and research institutes since its inception in 1994. The seminars will provide clear, concise information to help faculty write effective proposals. Last year's seminar received an average participant rating of 4.8 points out of 5 possible, and we expect equally effective seminars this fall.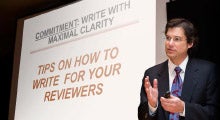 These one-day seminars are suited to both early-career faculty and senior faculty. Senior faculty who have a successful research program but who want to be more effective at obtaining funding are especially encouraged to attend. Each participant will receive extensive handouts and a copy of The Grant Application Writer's Workbook, customized for either NSF, NIH, or General Funding Agency, per each faculty member's preference.
Faculty interested in attending the seminar must obtain approval from their college/school dean prior to attending. The cost is free, but participants must register ahead of time because of space limitations. The first 25 tenured / tenure-track registrants will receive a free Grant Application Writers' Workbook (valued at up to $85) geared toward the agency to which they are most interested in applying. For additional information contact Dan Simon in the Office of the Vice President for Research at extension 5171 or at d.j.simon@csuohio.edu. The registration deadline is Tuesday, September 20. Please complete the appropriate online registration form by clicking below.

Free MATLAB Seminar at CSU on October 4
Join MathWorks engineers on October 4 at CSU as they provide insight into the latest features of the MATLAB and Simulink product families. The seminar is open to all CSU faculty, staff, and students, and will be held in the Student Center Ballroom, room 311 C & D, from 10:00 a.m. to 12:00 p.m. The seminar will include data analysis and visualization, how to access data from files and spreadsheets, how to use interactive tools for exploration and visualization, how to automate and capture analysis results via scripts and apps, how to share your results using report generation, and how to share your analysis tools as standalone applications or Excel add-ins. The seminar is suitable for both beginners and experienced MATLAB users. Click here to register or to see more information.
Any faculty who are unable to attend the seminar because of scheduling conflicts can contact Dan Simon, Associate VP for Research, at d.j.simon@csuohio.edu, to arrange for a time to have your technical questions answered by MathWorks engineers on the afternoon of Oct. 3 or Oct. 4.

Best Poster Prizes Awarded to Undergraduate Research Students
Undergraduate research students presented their work at the 2016 Undergraduate Research Poster Session on September 1. Students and faculty discussed research that was funded by the 2016 Undergraduate Summer Research Award Program. The session included a total of 59 posters from five CSU colleges.
Hallie Schmolz, Anton Denisyuk, John Sabljic, and Olivera Prica (pictured at left) earned first place (a $200 gift card) for their project "Expression of Recombinant Proteins in Bacteria for Antibody Production," which was conducted under the supervision of Prof. Bibo Li.
Amanda Gedeon and Christopher Morris earned second place (a $150 gift card) for their project "Protest Voices: Using Activist Oral Histories to Teach Historical Thinking," which was conducted under the supervision of Prof. Shelley Rose and Prof. Mark Souther (pictured at right).
Christopher Schroeck earned third place (a $100 gift card) for his research "Wrist-Mounted Feedback System: Monitoring Force and Torque in Six Degrees of Freedom," conducted under the supervision of Prof. Eric Schearer. Below, Christopher discusses his research with Engineering College Dean Anette Karlsson.
Many high-quality posters showed impressive scholarship and successful faculty-student collaborations. The Office of Research congratulates all of the students and their mentors, and encourages undergraduate and graduate students to continue to be actively engaged in research.
For more information on the 2016 Undergraduate Research Poster Session, click here.

Moo-Yeal Lee Receives Faculty Innovation Fund Award
Congratulations to Dr. Moo-Yeal Lee, who received a Faculty Innovation Fund (FIF) award for his project "Microarray 3D Bioprinting for Toxicology Assessment." Dr. Lee, a professor in the Department of Chemical and Biomedical Engineering, will receive $30,000 to further develop his 3D bioprinting technology and position it for follow-on funding and commercialization.
Dr. Lee's research creates miniaturized human organ tissues outside of the human body via layer-by-layer cell printing on a microarray chip/pillar plate platform. The three-dimensional design of these tissues provides a much more accurate representation of human tissue compared to more commonly used assays with enzymes printed in a single layer on a substrate. Dr. Lee is focusing on making human liver tissues, which will be critical for understanding how drugs will act after being metabolized in the body.
Dr. Lee's FIF proposal was reviewed by a panel which included Aaron Fleischman, Ph.D., from the Cleveland Clinic, patent agent Vani Velamoor, Ph.D., from Benesch Attorneys at Law, and staff from the CSU Office of Research and the Technology Transfer Office. His 3D bioprinting technology has already shown significant promise, including selection as one of 10 semi-finalists in the Transform Tox Testing Challenge supported by the US EPA and NIH.

News from the Technology Transfer Office
Patent Update
A formal patent application titled Recombinant Prothrombin Analogues and Uses Thereof will be filed for Dr. Michael Kalafatis, member of GRHD and a professor in the Chemistry Department, for an antithrombotic agent. The invention includes a method of inhibiting coagulation in a subject who has, or is at risk of having, blood clots. The technology provides an anti-coagulant agent which inhibits blood clotting with greater specificity than current therapies without their side effects. The filing for Dr. Kalafatis' technology will claim priority to a US provisional patent that was filed by CSU and Dr. Kalafatis in 2015.
Ohio Third Frontier Technology Validation and Start-up Fund (TVSF)
The TVSF has issued a 2016 request for proposals. Proposal submissions are due on December 15, and written questions may be submitted through December 8. The TVSF is designed to: (1) Support protected technologies developed at Ohio research institutions that need validation/proof that will directly impact and enhance both their commercial viability and ability to support a start-up company; and (2) Support Ohio start-up and young companies that license these validated/proven technologies from Ohio research institutions. Proposal submissions must be coordinated with the Technology Transfer Office (TTO). The TTO can also provide assistance with proposal submissions. Please contact Jack Kraszewski if you intend to submit a proposal.

Office of Research Staff Announcement - Benjamin Ward
Benjamin Ward has joined the Office of Research as Director for Research and Proposal Development. Ben supports large, collaborative proposals in all areas of research and scholarship across the University. He will engage with faculty, funding agencies, and the private sector to continue the growth of research and scholarship at CSU. Previously, Ben worked in private industry and was the writer and primary investigator for numerous grants funded by the Federal Government, the State of Ohio, and public-private partnerships. He received his B.S., M.S., and Ph.D. degrees, all in chemical engineering, from CWRU.
Please feel free to talk with Ben about your ideas for multidisciplinary research opportunities and collaborations with public or private partners. Ben will be available this fall to meet individually on Wednesdays from 2:00 - 4:00 p.m., Thursdays from 10:00 - 11:30 a.m., or by appointment in PH 204. He can be reached by email at b.j.ward@csuohio.edu and by phone at 216-687-4536. You can also follow Ben on Twitter @Ben_CSUResearch.

The Faculty Expertise Database -
Connect Your Research to the World
The Office of Research created the Faculty Expertise Database to increase internal and public access to Cleveland State's knowledge base and capabilities, foster new research collaborations, and facilitate contacts with potential research sponsors.
The beginning of the semester is a great time to update your faculty profile and make sure that the "Research Keywords" section includes relevant search terms (and that they are correctly spelled!). The Faculty Expertise Database uses those keywords to help both internal and external partners find faculty with aligned research interests.
If you are not already using SPIN, the extensive research funding opportunity database that is available to CSU faculty, the Office of Research can create an account for you and set up a customized search for grants based on your research keywords. The SPIN database contains over 40,000 opportunities from more than 10,000 funding agencies. If you would like to have customized SPIN search results based on your keywords delivered weekly to your email inbox, please click here and provide your name, email address, and research keywords.
_____________________________________________________________________________
Please share with us important news or updates on your research, scholarly, or creative activities. Updates may be related to a paper that has been accepted for publication in a high-impact journal, a book you've just published, your work that will be exhibited at a prominent institution, or other updates you wish to share with our office. Send details to j.yard@csuohio.edu and d.j.simon@csuohio.edu.
_____________________________________________________________________________
This newsletter is compiled and published by
The Office of Research