Thijs Heus Wins Department of Energy Award
Dr. Thijs Heus, an assistant professor in the Department of Physics, has been awarded $602,178 by the Department of Energy (DoE) for his project, titled Size decompositions of observed and simulated shallow convective cloud fields. The three-year award includes support for co-investigators at the University of Cologne, Germany.
Dr. Heus studies cloud formation and atmospheric flow by developing high-resolution computer models known as large eddy simulations (LES), which he combines with data from airplanes, radar, and satellites. In climate prediction models, the behavior of clouds is one of the largest uncertainties. Dr. Heus's work will improve the accuracy of mathematical models of cloud formation and change, which in turn has the potential to improve both weather forecasting and climate prediction.

Robert Hurley, Psychology
Dr. Robert Hurley joined Cleveland State in 2016 as an assistant professor in the Department of Psychology. Dr. Hurley is the director of the Neurocognitive Systems Laboratory at CSU. He and his students employ neuroscience methods such as eye tracking, electroencephalography, and magnetic resonance imaging to examine networks in the human brain, particularly those networks responsible for language and object recognition. This research program is supported by ongoing funding from the National Institute on Deafness and Other Communication Disorders (NIDCD).
Dr. Hurley's research focuses on two complementary areas: how neurocognitive networks are affected by pathological forms of aging such as Alzheimer's disease and frontotemporal lobar degeneration, and how language network function is affected by the typical (non-pathological) aging process as well. Prior to joining CSU he was an assistant professor of neurology at Northwestern University, and he maintains an adjunct appointment there. His training included an M.A. in psychology at Wake Forest University and a Ph.D. in neuroscience from Northwestern University.

Featured Researcher Video Series

Ronnie Dunn, Urban Studies

Research by Dr. Ronnie Dunn, an associate professor in the Department of Urban Studies, is the focus of this month's Featured Research Video. Dr. Dunn's research and teaching interests include racial and social justice, crime and the criminal justice system, policing, diversity, and issues affecting minorities and the urban poor. Click here to watch.

Nigamanth Sridhar Receives $1M Funding from NSF

Dr. Nigamanth Sridhar, a professor in the Department of Electrical Engineering and Computer Science and Dean of the College of Graduate Studies, has been awarded $999,891 over three years by the National Science Foundation under the Computer Science for All (CS for All) Research Practioner Partherships program. He is joined by Co-PIs Debbie Jackson and Brian Harper, both associate professors in the College of Education and Human Services, on the project, which is titled Understanding Equity and Access in a CSforAll Implementation.

Wendy Regoeczi, Criminology, Anthropology, and Sociology
Dr. Wendy Regoeczi is a professor and Chair of the Department of Criminology, Anthropology, and Sociology (CAS). Her area of expertise is violent crime, particularly homicide, domestic violence, and sexual assault, and her research has been supported by the National Institute of Justice and the National Science Foundation. She has investigated how the presence and type of forensic evidence contributes to homicide investigations and prosecutions and has assessed the reliability and validity of data from the FBI, state vital statistics agencies, police department records, and newspaper accounts for studying trends and patterns in homicide. She is currently working with Medical Examiner Thomas Gilson to examine homicides followed by suicides in Cuyahoga County and serves on the county's Domestic Violence Fatality Review Committee.
Dr. Regoeczi earned her Ph.D. in Sociology from the University of Toronto in 2001. She has authored more than twenty peer-reviewed journal articles, multiple book chapters and encyclopedia articles, and co-authored a book titled Rethinking Homicide: Exploring the Structure and Process Underlying Deadly Situations, published by Cambridge University Press.

Russ Borski Directs Company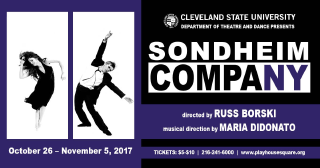 Company, Directed by Prof. Russ Borski
Prof. Russ Borski, an associate professor in the Department of Theatre and Dance, will direct the upcoming production of Stephen Sondheim's Company. Sondheim's classic musical paints a wide canvas of those who can commit to love and those who are continually searching.
The cast consists of 18 students from the Theater and Dance program and the Music program at CSU, as well as six pit musicians. Musical direction is by Maria Didonato, a graduate student in the Department of Music. Company will be performed on the Allen Theater Main Stage from October 26 through November 5, and ticket information can be found here.

Invention Disclosure Pipeline

The Technology Transfer Office (TTO) has processed the invention disclosure for a passive (not electrically powered) exoskeleton incorporating pneumatic technology. The invention, titled Pneumatic System for Walking Gait Restoration, restores the walking gait of persons with neurological disabilities such as multiple sclerosis, stroke, partial spinal cord damage, and cerebral palsy. Inventors are Antonie J. (Ton) van den Bogert, a professor and Chair of the Department of Mechanical Engineering, and College of Engineering students Daniel Miller, Ryan Doris, Robert Moody, and Donald Grimes.

Contact Jack Kraszewski for assistance with filing a disclosure to begin protecting your invention or intellectual property.

Medical Innovation Summit

On October 23-25, Cleveland Clinic's Medical Innovation Summit will bring together more than 2,250 of the brightest leaders from around the world to downtown Cleveland to discuss the investable technologies that will deliver on the powerful promise of genomics and precision medicine. Regardless of your field, the Summit will offer a slate of premier speakers, the hottest topics, and an unmatched network of professionals that can help you prepare for the ever-changing healthcare market.

Registration information for the Medical Innovation Summit can be found here.


FRD-IoT Awards – Second Submission Window Open Nov. 1-15
The Office of Research is excited to announce the first round of projects funded under the new Faculty Research and Development - Internet of Things (FRD-IoT) program.
The Office of Research is directing seed funding through the FRD-IoT program to develop a stronger University-wide research base related to the IoT, connected devices, and data analytics. This internal funding opportunity aligns with the mission and research priorities of the recently formed CSU-CWRU IoT partnership.
The four projects funded in the first round are:
Second Submission Window for FRD-IoT Proposals is November 1-15, 2017.
A second round of FRD-IoT applications will be accepted from November 1-15. Collaborations across departments and colleges are encouraged, particularly in applications related to healthcare, education, city services and infrastructure, cybersecurity, and manufacturing. If you have an idea for an IoT or data analytics project and need assistance finding a collaborator on campus, contact Ben Ward in the Office of Research.

Multidisciplinary Research Seminar with Mark Sundahl

Dr. Mark Sundahl, a professor in the Cleveland-Marshall College of Law, will be featured at the next Multidisciplinary Research Seminar, hosted by the Office of Research on Friday, November 3, 2017. In his presentation, titled Mining the Solar System: The Technical, Legal, and Ethical Challenges, Dr. Sundahl will discuss the implications of natural resource extraction from asteroids and other celestial bodies. The seminar will take place from 12:00-1:15 pm in PHH-104. Lunch will be provided.

Upcoming Research Seminars Across Campus:

Human Motion Seminar Series
Dr. Ryan J. Farris, Parker Hannifin Corporation
October 18, 10:00-11:00 am in FH 103

Department of Finance
Dr. Baolian Wang, Fordham University
October 20, 2:00-3:30 pm in BU 220

Department of Chemical and Biomedical Engineering
Dr. Ana Alba Rubio, University of Toledo
November 9, 3:20-4:20 pm in FH 103

Hurry! A Few Spots Remain for Proposal-Writing Seminar

Seats are filling up fast for the proposal-writing seminar that will be held December 1 at the Kent State College of Podiatric Medicine in Independence, Ohio. The seminar will focus on NSF and NIH proposals, and will be presented by Grant Writers' Seminars & Workshops, LLC. Previous seminars have received very positive reviews.

This one-day seminar is suited to early-career faculty, tenure-track faculty, and senior faculty. Senior faculty who have a successful research program but who want to learn how to be more effective at obtaining funding are especially encouraged to attend.

Faculty interested in attending the free seminar must obtain prior approval from their college/school dean. For additional information please contact Dan Simon in the Office of the Vice President for Research at extension 5171 or by email. The application deadline is November 1. To apply, please complete the registration form.


NIH Advises on Certificate of Confidentiality, Clinical Trials
Michael Lauer, the Deputy Director for Extramural Research at the National Institutes of Health (NIH), recently published two blog posts of potential interest to CSU researchers.
One post explains a recent update to NIH's policy regarding Certificates of Confidentiality (NOT-OD-17-109). Under the new policy, a Certificate of Confidentiality will be automatically issued to an NIH-funded grant that collects identifiable, sensitive information. Compliance with the Certificate will be part of the terms and conditions of the award.
The second post is an attempt to clarify the definition of a clinical trial. NIH issued a FAQ and case studies as part of its effort to help researchers understand the definition (see here). NIH is also implementing a new form, the PHS Human Subject and Clinical Trial Information form, for grants submitted on or after January 25, 2018. The intent of the form is to consolidate relevant human subject information in a structured format.
_____________________________________________________________________________________________
Please share with us important news or updates on your research, scholarly, or creative activities. Updates may be related to a paper that has been accepted for publication in a high-impact journal, a book you've just published, your work that will be exhibited at a prominent institution, or other updates you wish to share with our office. Send details to j.yard@csuohio.edu and d.j.simon@csuohio.edu.
_____________________________________________________________________________________________
This newsletter is compiled and published by
The Office of Research