Lewandowski Funded for Transitional Living Project Evaluation
| | | |
| --- | --- | --- |
| Dr. Lewandowski | | Dr. Fuller |
Cathleen Lewandowski, a professor and Director of the School of Social Work, and Kimberly Fuller, an assistant professor in the School of Social Work, have been awarded $49,000 over two years to evaluate a demonstration project funded by the Administration for Children and Families (ACF), part of the Department of Health and Human Services.
Bellefaire JCB is one of eight organizations across the country to be awarded an ACF demonstration grant targeting homeless LGBTQ youth and young adults who have left foster care but may need alternative housing and services. The goal of the project is to develop intervention strategies that help participants develop the skills they need for self-sufficiency. Dr. Lewandowski and Dr. Fuller will use a systematic case study approach to understand the extent that Bellefaire's project meets the needs of runaway and/or homeless LGBTQ youth and the complex phenomenon of implementing a new intervention program, especially for a vulnerable and at-risk population.

Meghan Rubado, Urban Studies
Dr. Meghan Rubado joined CSU in fall 2016 as an assistant professor in the Maxine Goodman Levin College of Urban Affairs. She received her Ph.D. in political science in May 2016 from Temple University, where she focused on state and local politics in the United States, urban service provision, and environmental policy. Prior to attending graduate school, Dr. Rubado worked as a newspaper reporter in Syracuse, New York, covering city politics, county government, and the city school district.
Dr. Rubado's research focuses on how local governments can provide efficient, equitable, and high-quality services to their citizens. Her doctoral dissertation examined how and why local governments cooperate with one another for service provision. She continues to investigate how local governments can work together to provide essential services and create shared policies, how cities can reduce civilian killings by police, and how the decline of local news media affects the quality of city governance.

Featured Researcher Video Series

John Plecnik

Research by John Plecnik, an associate professor in the Cleveland-Marshall College of Law and Interim Associate Dean of the College of Graduate Studies, is the focus of the latest installment of the Featured Researcher Video series.

Professor Plecnik's scholarship focuses on the intersection of taxation and public policy. Click here to watch.

European Collaboration

Researchers at CSU with an interest in collaborating with counterparts in the European Union (EU) are encouraged to investigate the BILAT USA 4.0 project. BILAT USA 4.0 is funded by the EU to enhance, support, and further develop the research and innovation cooperation between the EU and the United States. Available resources include a comprehensive report on EU-funded opportunities open to US researchers.

Jonathan Witmer-Rich, Law
Jonathan Witmer-Rich is the Joseph C. Hostetler-Baker & Hostetler Professor of Law in the Cleveland-Marshall College of Law. His research focuses on criminal law and criminal procedure, including the Fourth Amendment and covert government searches, the concept of affirmative consent, and the role of the prosecutor and grand jury in cases involving police use of deadly force. Professor Witmer-Rich is the leading scholarly expert on delayed notice search warrants, which authorize the government to covertly search homes or businesses without the knowledge of the occupants.
Before joining CSU, he practiced commercial litigation at Jones Day and worked as a criminal defense lawyer at the Federal Public Defender's Office in Cleveland. Professor Witmer-Rich is active in ongoing legal reform efforts for Ohio's Rules of Criminal Procedure and currently co-chairs the Jurisdictional Comparison Committee of the Cuyahoga County Bail and Bond Task Force. He is a frequent media commentator on issues of criminal law and criminal justice, both in local and national media outlets.
His law review articles have appeared in Criminal Law & Philosophy, the Florida Law Review, and the Pepperdine Law Review. He is completing a chapter on duress as a defense for war crimes for a forthcoming book on the legacy of the International Criminal Tribunal for Rwanda and the International Criminal Tribunal for the former Yugoslavia.

Heba El Attar's Christian Palestine in Chile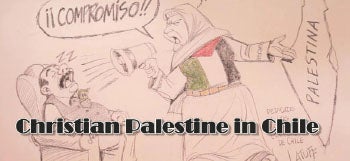 Christian Palestine in Chile by Heba El Attar
Christian Palestinians have been immigrating to the Americas since the late 19th century because of political and economic instability, and Chile is currently the home to the largest Christian Palestinian community outside the Middle East. Hebat-Allah El Attar, an associate professor in the Department of World Languages, Literature, and Culture, is one of a very small number of researchers that studies Arab immigrants in Latin America, and specifically Palestinians in Chile.
In 2014, Dr. El Attar filmed, edited, and translated her documentary Christian Palestine in Chile, which focuses on how that diasporic group has integrated into Chilean society but maintains strong ties to the homeland and fellow Palestinians. The documentary, which has been screened at six festivals in the USA, Germany, Colombia, and Malaysia, introduces the viewer to the voices of Christian Palestinians from all walks of life and ages and shows how this influential community adapted to a new home and culture. Christian Palestine in Chile is distributed by Arab Film Distribution and a DVD copy is available at the Michael Schwartz Library.

Healthcare Data Competition

Do you have a big idea for managing healthcare big data? The Medical Capital Innovation Competition is offering $100,000 in prizes for the best innovations in the collection, management, analysis, and optimization of healthcare big data. The most innovative ideas will receive meaningful funding, mentoring, and potential access to three world class healthcare systems and collaborators who can turn big ideas into new big business realities.

The Medical Capital Innovation Competition will be held April 25-26 at Cleveland's Global Center for Health Innovation in the HIMSS Innovation Center. Professional and collegiate teams are encouraged to participate. The application deadline is March 31.

CSU I-Corps Teams Progress

Three CSU teams have been selected to submit full proposals to participate in the next I-Corps@Ohio cohort, including a first-of-its-kind team seeking to commercialize student-developed technology.

Dr. Moo-Yeal Lee, an assistant professor in the Department of Chemical and Biomedical Engineering, and Dr. Wenbing Zhao, a professor in the Department of Electrical Engineering and Computer Science, are each leading a team. Dr. Majid Rashidi, a professor in the Department of Mechanical Engineering, is the faculty lead for the team that is commercializing technology invented by undergraduate senior Kevin Calmer.

MIRP and FIF Funds are Still Available!
The Office of Research received over 100 internal funding proposals in response to its most recent call for proposals! The submissions included 25 Dissertation Research Award (DRA) proposals, 12 Faculty Research and Development (FRD) proposals, 23 Faculty Scholarship Initiative (FSI) proposals, and 47 Undergraduate Summer Research Award (USRA) proposals. Thanks to all the faculty and students who submitted proposals! The Office of Research will announce funding decisions by April 1.
Funds are still available for the Multi-College Interdisciplinary Research Program (MIRP) and for the Faculty Innovation Fund (FIF). The deadline for MIRP proposals is April 1, so plan now if you have a creative idea for collaborative research that can lead to external funding. See the MIRP web site for details.

Research and Scholarship Highlights
Picture Your Research in @CSUresearch
Planning is underway for the second edition of @CSUresearch, the official research magazine of Cleveland State University. @CSUresearch showcases the outstanding scholarship conducted by faculty and students as well as the efforts CSU has taken to transfer technology, innovation, and knowledge to the marketplace and Northeast Ohio.
Editorial Board representatives from each College will be reaching out to faculty to find innovative research and scholarship to feature this year – please be sure to respond to your representative! The inaugural 2016 edition of @CSUresearch can be found around campus or accessed online by clicking here.

CSU Physics Undergraduates at PhysCon
Ten CSU students attended PhysCon: 2016 Quadrennial Physics Congress in San Francisco last November. PhysCon is the largest conference of physics undergraduates in the world and is organized by Sigma Pi Sigma and the Society of Physics Students. The conference brings together undergraduates majoring in physics and researchers at the forefront of physics, including prominent scientists, Nobel laureates, heads of national labs, and board members of the American Institute of Physics (AIP).
Seven of CSU's ten student attendees presented posters on their research at the congress, including five whose research was supported through the Undergraduate Research Summer Award (USRA) program. Dan Terrano and Ilona Tsuper were among only 23 students (out of over 360 student poster presenters) to be recognized with Poster Awards. In addition to attending the conference, the CSU contingent visited SLAC National Accelerator Laboratory.
_____________________________________________________________________________________________
Please share with us important news or updates on your research, scholarly, or creative activities. Updates may be related to a paper that has been accepted for publication in a high-impact journal, a book you've just published, your work that will be exhibited at a prominent institution, or other updates you wish to share with our office. Send details to j.yard@csuohio.edu and d.j.simon@csuohio.edu.
_____________________________________________________________________________________________
This newsletter is compiled and published by
The Office of Research