Hongxing Ye Wins NSF Award for Renewable Energy Research
Hongxing Ye, an assistant professor in the Department of Electrical Engineering and Computer Science (EECS), has been awarded a grant for his project "Transactive Uncertainty and Flexibility for High Penetration of Semi-dispatchable Renewables in Electricity Markets." The project has been funded by the NSF for $198,923 over three years.
Dr. Ye's research focuses on improving the reliability and fairness of the electricity market as variable energy resources (VERs), such as solar and wind, become more prevalent in the power generation landscape. The robust model that he is developing will actively manage the uncertainties of demand by users and supply by VER generators. By managing uncertanties and including explicit energy pricing signals, Dr. Ye's model has the potential to enable broader adoption of distributed renewable energy sources.

Maria Gibson, Nursing
Maria Kozlowski-Gibson joined the School of Nursing in the fall of 2014 as an assistant professor. She is a certified legal nurse consultant and teaches forensic nursing at the graduate level. After practicing law for 14 years in Brazil, Dr. Kozlowski-Gibson studied bioethics and earned a Master in Laws (LLM) from the Cleveland-Marshall College of Law in 2006. She then obtained an M.S. in nursing and a Ph.D. in higher education administration.
Dr. Kozlowski-Gibson's research focuses on issues involving law and nursing. Her study of schizophrenia with anosognosia was published as a case study in the International Journal of Psychiatry and Law. She has a particular interest in the legal aspects of treating individuals who do not know that they are ill.
In July, Dr. Kozlowski-Gibson and colleagues from CSU will host a session titled "The Struggle for Schizophrenia Treatment" at the International Congress on Law and Mental Health in Prague, Czech Republic.

Featured Research Video Series

GRHD

Research by the Center for Gene Regulation in Health and Disease (GRHD) is the focus of this month's Featured Research Video. Centers like GRHD allow faculty to combine intellectual and laboratory resources, creating a collaborative environment that promotes interdisciplinary research. Since GRHD's launch in 2008, its members have attracted significant funding including prestigious NIH grants. Click here to watch.

NIH to "Optimize" Funding

The National Institutes of Health (NIH) announced a new policy with the goal of optimizing research funding, which is part of a broader plan to promote a balanced biomedical research workforce.

In essence, the policy limits the total research support of an individual researcher or lab to the equivalent of three R01 grants. According to a Science article, approximately 6% of researchers funded by NIH receive more than this level of funding. The money that is expected to become available due to the new policy will then be available to the broader biomedical research community (including institutions such as CSU).


Joseph Mead, Urban Studies and Law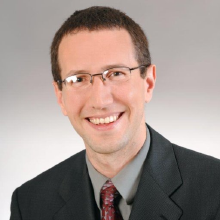 Joseph Mead is an assistant professor with joint appointments in the Maxine Goodman Levin College of Urban Affairs and the Cleveland-Marshall College of Law, and currently serves as interim program director for the Master of Nonprofit Administration and Leadership degree. Prof. Mead conducts interdisciplinary and applied research at the intersection of law, policy, and civil society, including policy responses to poverty, the regulation of charitable activity, and the free speech rights of nonprofit organizations. His scholarly and applied work on protecting legal rights for the homeless has been covered extensively in the media and led to policy changes across Ohio. He is part of a research team that includes Professors Megan Hatch and Rosie Tighe, both of the Urban College, and MPA student Marissa Pappas that is working to document how local nuisance laws compel the eviction of victims of domestic violence, people with medical emergencies, and other vulnerable populations. His research has appeared in both peer-reviewed and law review journals, including Public Administration Review, Administrative Law Review, Michigan Law Review, Georgia Law Review, and Nonprofit Policy Forum. He has been interviewed by dozens of media outlets, and his research has been cited by federal and state appellate courts, by the Congressional Research Service, and by local city councils.
Prior to joining CSU, he represented the United States in complex Constitutional litigation in federal courts across the country as a Trial Attorney at the United States Department of Justice. He regularly speaks in the community, advises nonprofit organizations, and handles pro bono litigation.

Shelley Rose's Protest Voices: Paulskirche
The study of protest movements is now digital with Protest Spaces: Peace Movements in the United States and Germany, 1920-2000, directed by Shelley E. Rose, an assistant professor in the Department of History. Dr. Rose is committed to using digital methods in her research and teaching to foster interdisciplinary perspectives. She currently leads a transnational research team that models "doing history in public" by mapping protest events in the United States and Germany on a public website.
In a recent case study, Dr. Rose examined the Frankfurt Paulskirche, which is a church that is famous for hosting the 1848 German National Assembly, as an iconic space for post-World War II protest events. Using the Protest Spaces platform, Dr. Rose maps protest events at the church, which range from a 1948 Women's Congress to the Easter Marches of the 1980s, revealing the repeated use of the Paulskirche by activists. Blending digital research methods with traditional academic publishing, Dr. Rose used the map of protest events as the basis for a spatial analysis in her peer-reviewed article Place and Politics at the Frankfurt Paulskirche.

Invention Disclosure Pipeline

A U.S. provisional patent application was filed on April 3, 2017 for Drs. Ye Zhu, Conor McLennan and Philip Manning's invention titled Authentication Method for a Computing Device Using Interactive Game Board and Game Piece Images. Dr. Zhu is an associate professor in the Department of Electrical Engineering and Computer Science, Dr. McLennan is an associate professor in the Department of Psychology, and Dr. Manning is a professor in the department of Criminology, Anthropology, and Sociology.

The invention was resubmitted as a provisional application based on new market opportunities discovered during Dr. Zhu's participation in the I-Corps@Ohio program. The claims in the invention disclosure protect a range of systems and methods for authenticating a user of a computing device or computer system by using a graphical and interactive game board passcode.

Industry Research Interests

The Ohio Federal Research Network (OFRN), an effort aimed at expanding federal research by Ohio universities, has identified opportunities for industry sponsored research.

GrafTech seeks partners to develop usage guidelines for their GRAFGUARD fire retardant materials that will reduce time to launch and increase the rate of successful applications.
GE Aviation seeks partners with experience with thermoset resin flow to develop rheological measurements at up to 200 psia and 700 °F.
GE Aviation also seeks collaboration in developing high-temperature resins and resin transfer molding processes.

CSU serves as the marketing and outreach lead for OFRN's commercialization efforts. Contact Jack Kraszewski for further information.


Funding Opportunities in Your Inbox
The Office of Research is now offering an additional resource to support faculty in the acquisition of external funding for research and scholarship. Beginning with a "soft launch" on April 21, a weekly Funding Opportunities email is being sent to CSU researchers on Fridays. Each weekly email contains a curated list of current funding opportunities that align with known faculty research interests or offer potential new research directions.
We welcome feedback from faculty and staff researchers to help make the most of this resource. If there are opportunities that you would like to see in the weekly email, or if you know of opportunities that are of interest to the broader CSU research community, please contact Ben Ward.

Joanne Goodell

Joanne Goodell, a professor in the Department of Teacher Education and Director of the Center for Faculty Excellence, has been awarded $47,484 through Northeast Ohio Medical University (NEOMED) for a program sponsored by the Health Resources and Services Administration (HRSA).

CSU will support the integration of Cleveland Health Profession Affinity Communities (HPAC) high school groups into CSU activities, to recruit under-represented students to health professions to help meet future employment demands. These programs will expose junior and senior high school students to CSU's campuses, degree programs, and health professions faculty.

Brooke Conti

Brooke Conti, an associate professor in the Department of English, has received recognition in a number of ways this semester. In addition to receiving tenure, she was awarded the John Donne Society's Distinguished Publication Award for her 2014 book Confessions of Faith in Early Modern England.

Dr. Conti has also received three research fellowships, each for $3,000 for a month of research in residence in 2017-18 to work on a new book project, by the Folger Shakespeare Library, the Huntington Library, and the Harry Ransom Humanities Research Center.

_____________________________________________________________________________________________
Please share with us important news or updates on your research, scholarly, or creative activities. Updates may be related to a paper that has been accepted for publication in a high-impact journal, a book you've just published, your work that will be exhibited at a prominent institution, or other updates you wish to share with our office. Send details to j.yard@csuohio.edu and d.j.simon@csuohio.edu.
_____________________________________________________________________________________________
This newsletter is compiled and published by
The Office of Research