Adam Voight Receives Award to Positively Impact Youth
Adam Voight, an assistant professor in the College of Education and Human Services (CEHS) and director of the Center for Urban Education (CUE), has received a subaward under a grant titled "Nashville Longitudinal Study of Youth Safety and Wellbeing." Dr. Voight's work has been funded for $235,047 over five years.
This subaward is part of a $5 million grant from the National Institute of Justice (NIJ) to develop datasets to inform decision making by government, schools, and the public. Dr. Voight will lead the preparation and analysis of longitudinal data collected throughout the program, including school climate, teacher and peer relationships, perceptions of rules and enforcement, and the effects of students' physical environment.

Roland Anglin, Urban Affairs
Dr. Roland V. Anglin joined the Maxine Goodman Levin College of Urban Affairs as Dean in July 2016. Previously he was Senior Advisor to the Chancellor of Rutgers University-Newark and Director of the Joseph C. Cornwall Center for Metropolitan Studies. Dean Anglin's research focuses on urban poverty, community and economic development, regional governance, postsecondary attainment, and the role of anchor institutions in place revitalization.
Dean Anglin's career has spanned academia, philanthropy, and the non-profit sectors. He spent nearly ten years at the Ford Foundation, where he worked to support community revitalization efforts in the United States and abroad. Dean Anglin plans to continue his research here at Cleveland State by looking at the role that regional cooperation and coordination plays in the revitalization of legacy cities such as Cleveland.

Featured ResearchER Video Series

Bill Kosteas

Research by Vasilios "Bill" Kosteas, an associate professor and Chair of the Department of Economics, is the focus of the latest installment of the Featured Researcher Video series. Dr. Kosteas's research focuses on the economic impact of health behaviors and job satisfaction. Click here to watch.

Fulbright Scholar Opportunities

The Australian-American Fulbright Commission is currently accepting applications for a Fulbright Senior Scholarship, sponsored by the University of Technology, Sydney (UTS).

UTS invites applications from senior level academics from the U.S. to undertake research at UTS in the areas of data science, sustainability, and health. The scholarship provides funding for up to four months, including a travel entitlement and health coverage.

For additional opportunities, please see the Core Fulbright Scholar Program.

Susan Bazyk, School of Health Sciences
Susan Bazyk is a professor in the School of Health Sciences and is the project director of Every Moment Counts: Promoting Mental Health Throughout the Day. Every Moment Counts focuses on building the capacity of occupational therapists, school personnel, and families to embed mental health promotion strategies and model programs throughout the day. The goal of the program is to help youth, both with and without disabilities and mental health challenges, participate successfully in school, at home, and in the community.
Dr. Bazyk has presented at state, national, and international organizations and currently serves as a consultant for the New Hampshire Department of Education in its effort to build the capacity of occupational therapists to address children's mental health. In 2011 she authored the book Mental health promotion, prevention, and intervention with children and youth: A guiding framework for occupational therapy. Her contributions have recently been recognized through the 2016 Crain's Cleveland Business Health Care Heroes Award and the 2017 Outstanding Research Award in the College of Sciences and Health Professions (COSHP).

Sarah Rutherford's Graphic Designs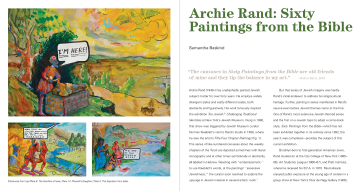 Archie Rand: Sixty Paintings from the Bible
Sarah Rutherford, an assistant professor in the Department of Art and Design, designed the catalogue for the September 2016 Galleries at CSU exhibition Archie Rand: Sixty Paintings from the Bible. The work features essays from the artist and from Dr. Samantha Baskind, a professor of art history and the exhibition's curator, as well as 60 full-color plates of vibrant and provocative work. The exhibition marked the first time the paintings were shown together since they were finished in 1992. The catalogue was featured with other faculty publications at CSU's recent AHA! Festival.
Prof. Rutherford joined CSU full time in 2014 and teaches courses in print and interactive design. She also has interests in design research methods and data visualization. She is the Education Director for AIGA Cleveland, leads AIGA's Emerge Mentoring program, and has been active in AIGA's Get Out the Vote: Design + Community Project.

Invention Disclosure Pipeline

A U.S. provisional patent application was filed on April 3, 2017 for Dr. Hanz Richter's invention titled Powered Machine and Control Method with Programmable Mechanical Impedance for Concentric-Eccentric Human Exercise. Dr. Richter is an associate professor in the Department of Mechanical Engineering.

The technology development was sponsored in part by the NSF. The invention includes an electric motor, sensors, and a control method to obtain continuously variable mechanical resistance during exercise.

OFRN Research Opportunities

GE Aviation has proposed a $350,000 sponsored research project for university researchers to develop solutions to extend the matrix life of polyimide (PI) composites. Thin ply PI composites have been shown to have advantages in reduced residual stress, microcracking, and damage initiation.

CSU serves as the marketing and outreach lead for the Ohio Federal Research Network's (OFRN) commercialization efforts. Contact Jack Kraszewski for further information on project requirements and funding opportunity details.


CSU Receives Record Ohio Supercomputer Award
Graduate student Will Martin is using the resources of the Ohio Supercomputer Center (OSC) to model the mechanism of the three-protein complex prothrombinase in blood clotting. He is advised by David Ball, a professor and Chair of the Department of Chemistry, and Michael Kalafatis, a professor in the Department of Chemistry and a member of GRHD. The entire model has approximately 1.3 million atoms in it, which necessitated a record-large 150,000 resource-unit grant to the CSU research team. A resource unit is roughly one hour of supercomputer time. According to the researchers, this is the first time the entire complex-plus-membrane system has been modeled as a single calculation.

NIH Reverses Course on Research Funding Caps
The National Institutes of Health (NIH) has decided to drop the Grant Support Index (GSI), announced just last month. The policy was intended to promote a balanced biomedical research workforce by limiting the amount of NIH funding that individual researchers could receive. Critics cited concerns that the policy would discourage highly productive research labs and limit opportunities for team science. A new policy, the Next Generation Researchers Initiative, was announced on June 8 and will emphasize support for early-stage and mid-career researchers. Additional information on this new initiative can be found here.
_____________________________________________________________________________________________
Please share with us important news or updates on your research, scholarly, or creative activities. Updates may be related to a paper that has been accepted for publication in a high-impact journal, a book you've just published, your work that will be exhibited at a prominent institution, or other updates you wish to share with our office. Send details to j.yard@csuohio.edu and d.j.simon@csuohio.edu.
_____________________________________________________________________________________________
This newsletter is compiled and published by
The Office of Research