Xue-Long Sun Receives NIH Funding for Antithrombotics
Xue-Long Sun, a professor in the Department of Chemistry and a member of the Center for Gene Regulation in Health and Disease (GRHD), has been awarded a grant under the Academic Research Enhancement Award (AREA) program from the National Heart, Lung, and Blood Institute (NHLBI) of the National Institutes of Health (NIH). His project, titled "Synthesis of Biomimetic Proteoglycan and Its Antithrombotic Activity," has been funded for $445,500 over three years.
Thrombosis is the major cause of cardiovascular diseases with significant mortality and morbidity in the United States. New antithrombotic drugs are in high demand for both treatment and prevention of thrombotic diseases. Dr. Sun's research will focus on developing a novel antithrombotic agent for effective and safe therapy. His research group investigates novel antithrombotic and antiviral agents, targeted drug delivery systems, and cell surface re-engineering.

Shiqi Zhang, Electrical Engineering and Computer Science
Dr. Shiqi Zhang joined CSU in fall 2016 as an assistant professor in the Department of Electrical Engineering and Computer Science (EECS). Prior to joining CSU, he received his Ph.D. in computer science from Texas Tech University in 2013 and was a postdoctoral fellow in the Department of Computer Science at the University of Texas at Austin between 2014 and 2016.
Dr. Zhang's research lies in the intersection of artificial intelligence and robotics. He is particularly interested in developing planning, reasoning, and learning algorithms for service robots that work in human-inhabited, everyday environments, such as homes, hospitals and offices. Additional details about Dr. Zhang's research and professional activities, including videos of decision-making robots he has developed, can be found on his personal page.

Featured ResearchER Video Series

Barsanjit Mazumder

Research by Barsanjit Mazumder, a professor of molecular genetics in the Department of Biology, Geology, and Environmental Science (BGES) and a member of the Center for Gene Regulation in Health and Disease (GRHD), is the focus of the latest installment of the Featured Researcher Video series. Dr. Mazumder's research focuses on cellular mechanisms for resolving inflammation, which is the cause of many diseases. Click here to watch.

New Multidisciplinary Center for Behavioral Health Sciences

CSU has established the Center for Behavioral Health Sciences (CBHS), a multidisciplinary center focused on high quality and well-funded interdisciplinary research that addresses prevention, intervention, and treatment of mental illness and addiction. CBHS is led by director Cathleen Lewandowski, a professor and Director of the School of Social Work, and actively partners with community health organizations such as St. Vincent Charity Medical Center (SVCMC).

The Center's researchers conduct inter-professional research studies designed to improve service delivery, enhance community well-being, and strengthen the quality of the behavioral health workforce in Northeast Ohio and the State.

Pong Chu, Electrical Engineering and Computer Science
Pong Chu is an associate professor in the Department of Electrical Engineering and Computer Science (EECS). His research focuses on digital system design, including field programmable gate arrays (FPGAs), and hardware description language (HDL). In addition to his research, Dr. Chu is introducing and integrating these cutting-edge technologies and practices into the curriculum. With funding support from the National Science Foundation (NSF), he is developing a coherent and comprehensive lab framework that connects the individual courses in the computer engineering curriculum with experiments and projects based on the themes of "sound" and "video."
Dr. Chu has authored five textbooks in this area, which have been adopted by dozens of universities worldwide. He is working on two new manuscripts that are scheduled to be published in late summer 2017 and spring 2018.

Stephanie Hinnershitz - A Different Shade of Justice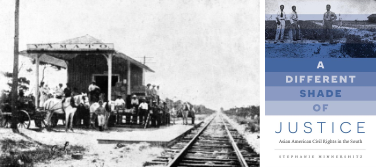 Stephanie Hinnershitz: A Different Shade of Justice
This fall, Dr. Stephanie Hinnershitz's new book A Different Shade of Justice: Asian Americans and Civil Rights in the South will be published by the University of North Carolina Press. A Different Shade of Justice is a creative look at a topic that has been largely unexplored, the experiences of Asian Americans with racism and discrimination in the southern United States. Dr. Hinnershitz focuses on American and foreign-born Chinese, Filipinos, Japanese, Indian, and Vietnamese who made their home in the South from the late nineteenth through the late twentieth century and fought against segregation and discriminatory laws.
Dr. Hinnershitz is an assistant professor in the Department of History and specializes in American immigration and ethnic history. Her research looks at the intersections of race, immigration, and civil rights in the United States, an innovative approach that is reflected in her scholarly articles and her 2015 book, Race, Religion, and Civil Rights: Asian Students on the West Coast, 1900-1968.

SBIR/STTR Opportunities

The Small Business Innovation Research (SBIR) and Small Business Technology Transfer (STTR) programs annually provide $2.5 billion in funding to small advanced technology firms to spur new technological discoveries and facilitate the commercialization of innovations. Together they represent America's Largest Seed Fund.

Register to meet with SBIR/STTR Program Managers from multiple federal agencies on Thursday, July 20, 2017. The SBIR Road Tour will be held at Ohio Aerospace Institute, 22800 Cedar Point Road, Cleveland, OH 44142.

OFRN Research Opportunity

Through the Ohio Federal Research Network (OFRN), Access Flight Training Services, LLC (AFTS) is seeking partners to develop and provide a virtual reality-based flight training system (VR SIM) tailored to specific aircraft. The VR SIM service would require the development and integration of system components, some of which currently exist in the marketplace and some of which still need to be created.

CSU serves as the marketing and outreach lead for OFRN's commercialization efforts. Contact Jack Kraszewski for further information.


House Spending Proposals Impose Less Severe Funding Cuts
Several spending bills that directly impact research funding are moving through House Appropriations subcommittees. In general, budget cuts proposed by the House bills are much less severe than those proposed by President Trump earlier this year. Some noteworthy elements of the proposed bills include:
Further changes can be expected as Senate subcommittees develop their own drafts of spending bills.

Federal Share of Funding for Basic Research Drops Below 50%
Federal funding levels for basic scientific research, defined by the National Science Foundation (NSF) as research to acquire "new knowledge or understanding without specific immediate commercial application or use," fell below 44% in 2015. Science Magazine reviews the underlying trends that resulted in this shift away from federal funding driving the majority of basic research since World War II. Federal research funding growth has stagnated over the last decade, while universities and philanthropic organizations have steadily increased their funding of basic science. Corporate funding, typically associated with applied research and development activities, has seen significant growth in basic research, particularly in the area of pharmaceutical research and drug discovery.
_____________________________________________________________________________________________
Please share with us important news or updates on your research, scholarly, or creative activities. Updates may be related to a paper that has been accepted for publication in a high-impact journal, a book you've just published, your work that will be exhibited at a prominent institution, or other updates you wish to share with our office. Send details to j.yard@csuohio.edu and d.j.simon@csuohio.edu.
_____________________________________________________________________________________________
This newsletter is compiled and published by
The Office of Research