Chris Wirth Receives Funding to Improve Fracking
Dr. Chris Wirth, an assistant professor in the Department of Chemical and Biomedical Engineering, has been awarded funding from the American Chemical Society (ACS) to reduce the amount of water required to extract natural gas from shale. Dr. Wirth's $110,000 grant from the ACS's Petroleum Research Fund (PRF) will fund his research for two years.
Natural gas has emerged as a "bridge fuel" as the US shifts to a low-carbon energy economy. Unfortunately, most of the gas supply is trapped in shale that requires an enormous volume of water to access through hydraulic fracturing (hydrofracking). Adoption of foam fracking fluids would substantially reduce the water required for natural gas extraction. As part of his research, Dr. Wirth will develop a first principles model to tailor foam properties by adsorption of anisotropic particles to the gas/fluid interface.

Kimberly Fuller, School of Social Work
Dr. Kimberly Fuller joined CSU in fall 2016 as an assistant professor in the School of Social Work. Prior to joining CSU, she received her Ph.D. in human sexuality studies, M.S. in social work, and M.S. in human sexuality education from Widener University in Chester, Pennsylvania. She has been active in private practice for five years as a certified sex therapist.
Dr. Fuller researches LGBT coming-out processes, including parental acceptance, self-acceptance, relationship satisfaction, and identity development. She is also conducting two program evaluations, one on a transitional living program with LGBT youth in Cleveland and a second on the utilization and community need of the LGBT Center of Greater Cleveland. Her research interests extend to understanding clinical educators' continued growth as culturally aware professionals on the learning outcomes and professional growth of students.

Featured ResearchER Video Series

Elliott Ingersoll

Research by Elliott Ingersoll, a professor and Chair of the Department of Counseling, Administration, Supervision & Adult Learning (CASAL), is the focus of the latest installment of the Featured Researcher Video series. Dr. Ingersoll's research includes integrating integral theory into training mental health professionals, psychopharmacology, and spiritual approaches to counseling. Click here to watch.

Börner Conference Keynote

Dr. Valentin Börner, an associate professor in the Department of Biological, Geological and Environmental Sciences and a member of CSU's Center for Gene Regulation in Health and Disease (GRHD),has been selected to give a platform presentation at the EMBO Conference on Meiosis to be held in Hvar, Croatia, Aug. 27 - Sept. 1, 2017. The title of his presentation is "The Fanconi Anemia DNA Helicase Mph1 Mediates Interhomolog Repair of DNA Double Strand Breaks during Meiosis."

Rolf Lustig, Chemical and Biomedical Engineering
Dr. Rolf Lustig is an associate professor in the Department of Chemical and Biomedical Engineering. He earned his Ph.D. in Engineering (Dr.-Ing.) and habilitation from Ruhr-University Bochum and the University of Aachen, Germany, respectively. His research expertise is in the fundamentals of molecular simulation, a field at the interface of theoretical physics and engineering. Dr. Lustig recently completed an ambitious project to develop a novel statistical mechanical methodology for the concurrent molecular simulation of any number of thermodynamic properties. Through this work, he initiated collaborations with experts in Germany to implement his models on supercomputers.
Thermodynamic data generation and correlation is vital for chemical and physical process design. Dr. Lustig's molecular simulations can augment or even replace laboratory experiments, which are limited by technological, time, and cost constraints. Simulation data has the potential to improve established chemical databases used by scientists and engineers. To date, about 20 international conference presentations and 15 peer-reviewed journal publications by Dr. Lustig, his collaborators, and other research groups worldwide have contributed to the visibility of his novel strategy.

Mark Souther's Believing in Cleveland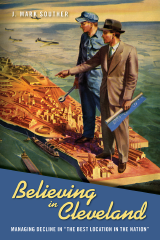 Mark Souther: Believing in Cleveland
Dr. Mark Souther, a professor in the Department of History, has a new book titled Believing in Cleveland: Managing Decline in "The Best Location in the Nation," which will be available in November. Believing in Cleveland explores how Clevelanders discovered and responded to the onset of decline in the decades after World War II. As late as the mid-20th century, Cleveland remained one of the nation's most robust metropolitan areas, but a combination of deindustrialization, suburbanization, and the onset of the urban crisis reversed the city's longtime stature as a leading metropolis.
Dr. Souther's book examines how Clevelanders perceived their city's shifting fortunes, how boosters sought to modulate their perceptions, and the degree to which they succeeded. The book focuses on the period from the mid-1940s, when the city's electric utility coined the slogan "The Best Location in the Nation," to the late 1970s, when George Voinovich became mayor. Dr. Souther relates how and why concerns about Cleveland's image took on a life of their own over the course of this period and cautions against the notion that cities move predictably through a succession from growth to decline to renewal.
Souther, Owino win NEH Award - Congratulations to Dr. Souther and Dr. Meshack Owino, an associate professor in the Department of History, for winning a $74,939 Digital Humanities Advancement Grant from the National Endowment for the Humanities (NEH). Their project, "Curating East Africa," builds on a previous NEH grant "Curating Kisumu" and the Curatescape mobile app framework developed by CSU's Center for Public History + Digital Humanities (CPHDH).

TeCK Fund Available to Faculty

CSU and partner Kent State University (KSU) are managing the TeCK Fund, created through an Ohio Technology Validation Start-up Fund (TVSF) award. The TeCK Fund provides faculty and startup companies with up to $100,000 to assist with commercialization activities. TeCK Fund awards target prototype creation and market research, which are required to successfully spin off technologies. Applicants that have completed I-Corps@Ohio training are prioritized for TeCK fund awards.

For more information on the TeCK Fund and other commercialization resources available to CSU faculty, contact Jack Kraszewski.

Invention Disclosure Pipeline

The Technology Transfer Office (TTO) is currently processing invention disclosures for a novel exoskeleton that can restore walking in persons with severe disabilities such as multiple sclerosis, stroke, or spinal cord injury. The disclosure was submitted by Dr. Ton van den Bogert, Parker Hannifin Endowed Chair and Professor in the Department of Mechanical Engineering and a group of his students. Dr. van den Bogert's invention is titled Pneumatic System for Walking Gait Restoration.

Contact Jack Kraszewski for assistance with a disclosure to begin the process of protecting your invention or intellectual property.


Multidisciplinary Research Seminar Series Launches Sept. 15
The Office of Research recognizes the importance of an environment that enables, encourages, and rewards multidisciplinary and collaborative risk taking to solve the broad challenges in our increasingly complex world. To enhance collaboration across the University to creatively and meaningfully address the needs of our community and our society, we are pleased to announce the CSU Multidisciplinary Research Seminar Series.
This monthly seminar series will provide CSU faculty with the opportunity to share their research interests with a broad audience, to learn about the research of their colleagues across the University, and to develop wide-ranging collaborations. The seminar series will also include invited seminars by well-known speakers from across Northeast Ohio. Seminars will cover academic subjects as well as multidisciplinary issues such as creativity, risk-taking, and innovation.
All seminars will be held in PHH-104 on Fridays, from 12:00 - 1:15 pm, and the full seminar schedule can be found here. Our first seminar, Geckos stuck and unstuck: Can we accelerate innovation through biomimicry?, presented by Prof. Peter Niewiarowski of the University of Akron, will be held on Friday, September 15, 2017 at 12:00 pm. Biomimicry is a new discipline that spans all academic areas to study nature's best ideas, and that then imitates those designs and processes to solve human problems. Lunch will be provided.

Internal Funding for IoT Research: Proposals Due September 15
The Office of Research is excited to announce that we are expanding our Faculty Research and Development (FRD) program to promote innovative research in the Internet of Things (IoT). The IoT impacts research across all of Cleveland State, from engineering to healthcare to the arts and social sciences. The IoT is changing how we teach and learn, and how businesses operate.
Through the FRD-IoT program, the Office of Research is directing seed funding to develop a stronger University-wide research base related to the IoT and to better align the University's research priorities with the mission of the recently formed CSU-CWRU IoT partnership, which was established to expand research and educational opportunities in this rapidly growing field.
Tenured and tenure-track faculty are encouraged to propose multi-disciplinary research that develops or leverages an innovation in IoT-related technology to address critical issues in the areas of Smart Cities, Manufacturing, Healthcare, Energy, Software, Cybersecurity, Education, and others.
It is expected that awardees will use FRD-IoT funding to initiate a robust IoT research program that is supported by external funding. Award guidelines, terms, and conditions can be found here.

NSF / NIH Proposal-Writing Seminar on December 1
The Office of Research is excited to announce that it will sponsor a proposal-writing seminar for CSU faculty on December 1 at the Kent State College of Podiatric Medicine in Independence, Ohio. The seminar will focus on NSF and NIH proposals and will include participants from CSU, KSU, NEOMED, YSU, and UA. The seminar will be conducted by Grant Writers' Seminars & Workshops, LLC. Recent proposal-writing seminars at CSU have received an average participant rating of 4.8 points out of 5 possible, and we expect an equally effective seminar this year.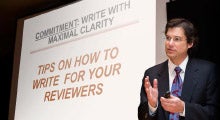 This one-day seminar is suited to both early career faculty and senior faculty. Senior faculty who have a successful research program but who want to learn how to be more effective at obtaining funding are especially encouraged to attend. Attendance is limited to tenured or tenure-track faculty. Each participant will receive extensive handouts and a copy of The Grant Application Writer's Workbook, customized for either NSF, NIH, or General Funding Agency, per each faculty member's preference.
Faculty interested in attending the seminar must obtain approval from their college/school dean prior to attending. The cost is free, but participants must apply ahead of time because seating is limited to 20 participants from CSU. For additional information please contact Dan Simon in the Office of the Vice President for Research at extension 5171 or at d.j.simon@csuohio.edu. The registration deadline is November 1. To apply for seminar attendance, please complete the registration form.

Don't Miss Out! Undergraduate Research Poster Session Sept. 7
The Office of Research invites students, faculty, and staff to attend the Undergraduate Research Poster Session on Thursday, September 7 from 11 am - 2 pm in the Student Center Ballroom on the third floor of the Student Center. Students and faculty will present and discuss research that was funded by an Undergraduate Summer Research Award (USRA). The poster session will highlight 74 undergraduate students from across the entire University who worked on 52 research projects, plus McNair students and their research. Some of these students have already had their research accepted for presentation at international conferences! Cash prizes will be awarded for the top three posters.
_____________________________________________________________________________________________
Please share with us important news or updates on your research, scholarly, or creative activities. Updates may be related to a paper that has been accepted for publication in a high-impact journal, a book you've just published, your work that will be exhibited at a prominent institution, or other updates you wish to share with our office. Send details to j.yard@csuohio.edu and d.j.simon@csuohio.edu.
_____________________________________________________________________________________________
This newsletter is compiled and published by
The Office of Research