Bibo Li Funded to Investigate Chromosome Replication
Dr. Bibo Li, a professor in the Department of Biological, Geological, and Environmental Sciences (BGES) and a member of the Center for Gene Regulation in Health and Disease (GRHD), has been awarded $816,750 over five years as part of a National Institutes of Health research grant.
The research program, titled "Molecular dynamics of genome and epigenome integrity in Trypanosoma brucei," is led by Rockefeller University (RU). The NIH funding will allow RU and CSU to investigate how alterations of specific structures on chromosomes influence DNA replication. Dr. Li's team will determine the spatial organization of chromosome structures with support from Dr. Valentin Börner, an associate professor in BGES and a member of GRHD. Her lab will also examine replication dynamics at telomeres, a key protein that maintains the stability of chromosomes. Dr. Li previously demonstrated that T. brucei can alter certain telomeres to evade a host's immune response, and understanding this process is key to developing anti-parasite treatments.

Elena Andrei, Teacher Education
Dr. Elena Andrei is an assistant professor of TESOL (teaching English to speakers of other languages) and TESOL program coordinator in the Department of Teacher Education. Her research interests include second-language literacy in regards to technology and writing as well as teacher education in both the traditional campus classroom and online. Prior to joining CSU, Dr. Andrei was an "English as a foreign language" teacher overseas and an "English as a second language" teacher in the US. She received her doctoral degree from the University of Virginia's Curry School of Education.
As an Assistant Professor of Literacy and ESOL Graduate Certificate coordinator at Coastal Carolina University, she developed a state-approved graduate certificate that allowed teachers in South Carolina to obtain TESOL certification. Dr. Andrei has been honored as an emerging leader by the TESOL International Association, and was named to their TESOL 30 Up and Coming list. Her research has been published in TESOL Journal, TESL-EJ, and The Educational Forum.

Featured Research Video Series

Undergraduate Research

The Undergraduate Student Research Award (USRA) program is the focus of the latest installment of the Featured Researcher Video series. The USRA program provides undergraduate students an engaged learning experience that involves intellectual inquiry and faculty mentoring as students perform meaningful research on campus. Click here to watch.

Phuong Ngo Conference Award

Dr. Phuong Ngo, an assistant professor in the Department of Economics, won the NASDAQ OMX Award for the best paper on asset pricing and a $5,000 cash prize at the Western Finance Association Annual Meeting in Whistler, Canada. The paper, titled "Risk Premia at the ZLB: A Macroeconomic Interpretation," was co-authored by Dr. Ngo and Dr. François Gourio from the Federal Reserve Bank of Chicago and was selected for the award from nearly 2,000 papers submitted to the conference.

Tama Engelking, World Languages, Literatures, and Cultures
Dr. Tama Engelking is a professor of French in the Department of World Languages, Literatures, and Cultures (WLLC). She is a feminist literary critic and well-known specialist on fin-de-siècle (late nineteenth century) French women writers, and her scholarship explores the relationship between gender and writing. After earning a Ph.D. in French literature from the University of Wisconsin-Madison, Dr. Engelking focused her initial research on a group of little-known French women poets who challenged the male-dominated literary canon in the early twentieth century.
Through a National Endowment for the Humanities (NEH) Focus Grant that she co-authored and co-directed, she expanded her studies to Francophone women writers and film makers. The NEH grant funded a series of lectures and workshops and culminated in the creation of new non-western literature courses that are still taught at CSU. Dr. Engelking recently completed a Faculty Scholarship Initiative (FSI) project studying French author Colette's natal home and the insights into her work that readers can gain from walking in Colette's footsteps. Her interview with the director of La Maison de Colette will appear in The French Review.

Victor Liva Conducts the Cleveland Philharmonic Orchestra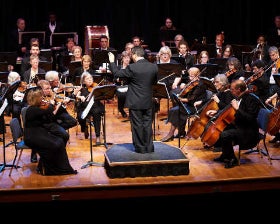 Victor Liva Conducts the
Cleveland Philharmonic Orchestra
Dr. Victor Liva will take the stage as he conducts the Cleveland Philharmonic Orchestra's performance of Beethoven's Symphony No. 9 in D minor, Op. 125 on Sunday, October 15 at 3:00 pm at CSU's Waetjen Auditorium. The performance of Beethoven's final complete symphony will feature the Cleveland Pops Chorus, the CSU University Chorus and CSU Chorale, and the True North Chorale. Ticket information can be found here.
Dr. Liva is an associate professor, Coordinator of String Studies, and Conductor of Orchestras in the Department of Music. He began his career as a violinist and earned his Doctor of Musical Arts in conducting from the University of South Carolina.
Dr. Liva will also conduct the CSU Symphony Orchestra on Friday, October 6 in Waetjen Auditorium as they perform Bruch's Violin Concerto No. 1 in G minor, Op. 26 and Beethoven's Symphony No. 3 in E-flat major, Op. 55 (Eroica) with guest artist Odin Rathnam. Dr. Liva and the CSU Orchestra were also featured on ideastream's Cleveland Ovations series, which can be heard online here.

Invention Disclosure Pipeline

The Technology Transfer Office (TTO) has processed the invention disclosures submitted by Dr. Moo-Yeal Lee, an assistant professor in the Department of Chemical and Biomedical Engineering (CBE) and Dr. Xue-Long Sun, a professor in the Department of Chemistry. Their invention, titled Multiplexed immune cell assays on a micropillar/microwell chip platform, involves the use of a micropillar/microwell chip platform for the rapid creation of 3D-cultured immune cells via novel microarray bioprinting technology.

Contact Jack Kraszewski for assistance with a disclosure to begin the process of protecting your invention or intellectual property.

Upcoming Biomedical Events

BioOhio, the state's bioscience membership organization, is celebrating its 30th year. They are hosting a networking social to bring the bioscience community together to meet, talk shop, and get to know one another in a casual atmosphere. The event will be held in Cleveland on September 19 at the Wild Eagle Saloon.

The Cleveland Medical Hackathon will return this year in conjunction with the Cleveland Clinic's Medical Innovation Summit on October 21-22. The Hackathon will be held at the Global Center for Health Innovation. Register here to participate.


An Updated Faculty Profile Improves Your Visibility
The Office of Research created the Faculty Expertise Database to increase the public's access to Cleveland State's knowledge base and to foster new research. Now, the Ohio Department of Higher Education is launching a similar statewide portal, the Ohio Innovation Exchange (OIEx), to improve research collaborations among Ohio's universities and increase university/industry partnerships. A beta version of the OIEx website has launched, and CSU will be adding their faculty data to OIEx in the coming months.
To get the most out of these resources, update (or create) your faculty profile by following these easy steps:
Create/update your faculty profile by following this link
Add relevant terms to the "Research Keywords" section of your faculty profile to help partners and funders find you through the Faculty Expertise Database
Add your picture to your profile page (replacing the stock image) by sending a photo to facultyprofile@csuohio.edu

NSF REU Sites a Success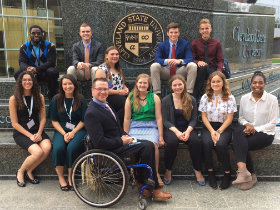 2017 Re@CSU Students
CSU welcomed the first cohorts of students for two National Science Foundation (NSF) funded Research Experiences for Undergraduates (REU) sites. The REU program provides undergraduate students from across the country with opportunities to participate in research with the support of faculty mentors.
The Synthesis, Assembly and Characterization of Soft Matter Systems (Soft Matter REU) Site is led by Dr. Kiril A. Streletzky, an associate professor in the Department of Physics, and Dr. Jessica Bickel, an assistant professor in the Department of Physics. Eight students in the Soft Matter REU participated in the interdisciplinary research projects that combined physics, chemistry, biology, and engineering to study unique properties and applications of soft matter materials such as liquids, colloids, polymers, gels, and biological materials. The projects were directed by faculty in Physics and Chemical and Biomedical Engineering (CBE).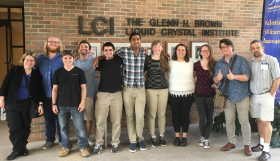 2017 Soft Matter REU
The second REU site, Rehabilitation Engineering at CSU (RE@CSU), is overseen by Dr. Eric Schearer, an assistant professor in the Department of Mechanical Engineering, and Dr. Ann Reinthal, an associate professor in the School of Health Sciences. RE@CSU hosted 12 students who helped advance the state of the art of prosthetic legs, understanding of human walking, community-based balance training for elderly adults, knee tissue mechanics, and neuroprostheses for people with spinal cord injuries, all while interacting with people with disabilities who stand to benefit from the technologies. Faculty members from Physical Therapy, Electrical Engineering and Computer Science, and Mechanical Engineering hosted RE@CSU students in their labs.

Best Poster Prizes Awarded for Undergraduate Research
Undergraduate research students presented their work at the 2017 Undergraduate Research Poster Session on September 7. Students and faculty discussed research that was funded by the Undergraduate Summer Research Award (USRA) Program and the McNair Scholars Program. The session included a total of 63 posters from five CSU colleges.
Kristen Burns, Lacey DiFranco, Dallas Turner, Samantha Paskert, and Joseph Peal earned first place (a $200 gift card) for their project "Heritage Language and Culture: The Cleveland Slovenian Experience," which was conducted under the supervision of Dr. Lydia Grebenyova, Director of Linguistics in the Department of Criminology Anthropology & Sociology (CAS).
Joseph Keil earned second place (a $150 gift card) for his project "Synthesis of Sialic Acid Derivatives and Their Immune Cells Modulation," which was conducted under the supervision of Dr. Xue-Long Sun, a professor in the Department of Chemistry and a member of the Center for Gene Regulation in Health and Disease (GRHD).
Karen Barrientos, Samantha Butterbaugh, Nicholas Chambers, Jamie VanDewerker, and Jessica White earned third place (a $100 gift card) for their research "Go Skate! The Physiological Responses and Perception of Training on Inline Skates," conducted under the supervision of Drs. Emily Kullman, and Kenneth Sparks, both associate professors in the Department of Health and Human Performance (HHP), and Kristine Fondran, an instructor in HHP.
There were many high-quality posters that provided an impressive demonstration of the scholarship and faculty-student collaborations that saturate the educational and research environment at CSU. The Office of Research congratulates all of the students and their mentors, and encourages undergraduate and graduate students to continue to be actively engaged in research.
For more information on the 2017 Undergraduate Research Poster Session, click here.

Nursing Conference on New Connections in Healthcare
The School of Nursing is hosting the New Connections in Healthcare Research Day, an opportunity to learn about the exciting work in the CSU health community. Presenters will share research and best practices across the health professions. The conference will be held Friday, November 17 from 12:00 – 5:00 pm in the Student Center Ballroom (SC 311). The fee for the conference is $11 and includes lunch.
Students and faculty from all health professions are invited to attend and submit an abstract. Registration information can be found here.
_____________________________________________________________________________________________
Please share with us important news or updates on your research, scholarly, or creative activities. Updates may be related to a paper that has been accepted for publication in a high-impact journal, a book you've just published, your work that will be exhibited at a prominent institution, or other updates you wish to share with our office. Send details to j.yard@csuohio.edu and d.j.simon@csuohio.edu.
_____________________________________________________________________________________________
This newsletter is compiled and published by
The Office of Research