Office of Research Welcomes President-Elect Sands
The Office of Research is excited to welcome President-elect Harlan Sands to CSU. Mr. Sands is currently the Vice Dean of Finance and Administration, the Chief Financial Officer, and the Chief Administrative Officer of the Wharton School at the University of Pennsylvania. Mr. Sands will become the seventh president of CSU on May 1.
Mr. Sands has served for nearly two decades as an administrator and faculty member at urban research universities and has a proven track record of championing research. He held several research-oriented positions at Florida International University from 1999 to 2007, including professor in the Department of Criminal Justice, associate dean in the College of Health and Urban Affairs, associate vice president in the Office of Research, and executive director of the Applied Research Center, which includes seven research labs and three engineering facilities. He was also a leading member of the National Council of University Research Administrators (NCURA) from 2001 to 2014.
The Office of Research is excited to continue growing the CSU research and scholarship enterprise under the leadership of President-elect Sands.

Valentin Börner Awarded NIH R01 Funding
Dr. Valentin Börner, an associate professor in the Department of Biological, Geological and Environmental Sciences (BGES) and a member of CSU's Center for Gene Regulation in Health and Disease (GRHD), has been awarded an R01 grant from the National Institutes of Health (NIH). The project, titled Role of Chromosomally Tethered Proteasome in Chromosome Pairing and Meiotic Recombination, will be funded for $2,020,012 over a four-year period.
Dr. Börner and his research team study proteasome, the machinery in cells that destroys proteins after they have completed their function. His paper, "Control of Meiotic Pairing and Recombination by Chromosomally Tethered 26S Proteasome," was published in the journal Science online in January 2017 and provided new insights into the function of proteasome in the cellular process of meiosis.

Stephanie Hinnershitz, History
Dr. Stephanie Hinnershitz is an assistant professor in the Department of History. Her research centers on American immigration and ethnic history, with an emphasis on the Asian American experience. Her first book, Race, Religion, and Civil Rights: Asian Students on the West Coast, 1900-1968 (Rutgers University Press, 2015), and her second book, A Different Shade of Justice: Asian American Civil Rights in the South (UNC Press, 2017), both look at how Asian Americans experienced racism and discrimination in the U.S. and later contributed to movements for political rights. She is currently at work on her third book, Wages of War: Japanese American Incarceration and Forced Labor during World War II, which approaches the history of Japanese American internment as a history of prison labor.
Dr. Hinnershitz joined CSU in 2016 after teaching at Valdosta State University in Georgia. She is currently on leave from CSU as the American History and Diversity Studies Fellow at the United States Military Academy at West Point, NY, where she is working to diversify the history curriculum to include more emphasis on immigration and ethnicity. In addition to her research, Dr. Hinnershitz also teaches American political and cultural history and enjoys introducing students to more recent history from 1989 onward.

Featured Researcher Video Series

Graham Stead, Education

Research by Dr. Graham Stead, a professor and the Director of Student Learning and Assessment in the Department of Curriculum and Foundations, is the focus of this month's Featured Research Video. Dr. Stead's research focuses on career education, and he has developed three career assessment instruments. Click here to watch.

NSF CAREER Seminar

Dr. Yang Hyun Yun will present a one-hour seminar at CSU on how to win an NSF CAREER Award. Dr. Yun joined the University of Akron in 2004, received the NSF CAREER award in 2010, and is currently an associate professor in the Biomedical Engineering Department at the University of Akron. His research is supported with funding from the NIH, NSF, Austen BioInnovation Institute, and industry. Dr. Yun's experience also includes serving on NSF CAREER proposal review panels.

The seminar is scheduled to be held in PH-104 on Tuesday, February 27 from 11:30-12:30 pm. Lunch will not be served, but please feel free to bring your own lunch.

Neda Zawahri, Political Science
Dr. Neda Zawahri is an associate professor and Director of the Master of Arts in Global Interactions in the Department of Political Science. Her research interests focus on water security, transboundary water resource management, and adaptation to climate change. She examines how access to fresh water is related to individual, national, and regional security, and how water and hydrological infrastructure can be used as weapons. As climate change continues to impact transboundary basins, she has researched the role of river basin commissions in adapting to increasing climatic variability.
Since arriving at Cleveland State University in 2004, she has published over 20 book chapters and articles in top journals in international relations and environmental politics. Her work appears in International Studies Quarterly, Journal of Peace Research, Global Environmental Politics, International Environmental Agreements, Security Dialogue, and Development and Change. Dr. Zawahri has been co-principal investigator for grants from the Social Science Research Council, U.S. Agency for International Development, Eisenhower Foundation, and two Title VI grants from the U.S. Department of Education.

Rachel Carnell: The Secret History in Literature, 1660-1820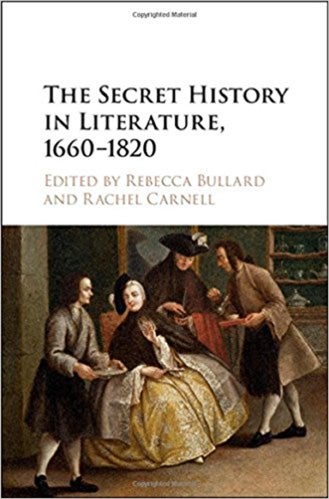 Dr. Rachel Carnell, a professor in the Department of English, is co-editor of The Secret History in Literature, 1660-1820, published by Cambridge University Press (2017). This collection of essays examines works of literature that were often misread as romances by modern literary critics but were actually works of opposition political propaganda. Such works, which featured gossip about the personal lives of powerful politicians and courtiers, became popular in England and France in the late seventeenth century, following the translation of Procopius's Anekdota, a sixth-century secret history about the court of Emperor Justinian. Dr. Carnell points out in the epilogue to the essay collection that secret history has often been misunderstood and marginalized by literary critics, but it continues to flourish to this day. Contemporary best-sellers, including Michael Wolff's Fire and Fury, may be understood within this tradition, as Carnell explained in a recent opinion essay for Cleveland.com.

Moo-Yeal Lee: TeCK Funding

The TeCK Fund held its second Selection Committee meeting on Jan. 22, 2018 and selected two full proposals for funding. Dr. Moo-Yeal Lee, an assistant professor in the Department of Chemical and Biomedical Engineering (CBE), received funding to help commercialize his technology Miniaturized 3D Bioprinting of Human Cells on a Chip for Disease Modeling. The technology, developed with support from an NIH grant, is expected to provide more accurate selection of compounds in the drug discovery process prior to human trials. Kent State's Speed Manipulated Adaptive Rehabilitation Therapy (SMART) bike for Parkinson's disease was also selected for funding. The Selection Committee approved each proposal for $100,000 in funding.

Contact Jack Kraszewski for information regarding the TeCK Fund and technology transfer.

Innovation Competition

The 2nd Annual Medical Capital Innovation Competition (MCIC2) is a two-day business plan competition open to professional and collegiate teams from around the world that are working with big data, artificial intelligence, enhanced reality, and other disruptive technologies to improve healthcare. $100,000 in prizes, mentoring, and access to business advisors, including world-class healthcare systems and collaborators, will be awarded. Submissions are accepted through March 16, 2018.

Application information can be found here.

Contact Jack Kraszewski for assistance with a disclosure to begin the process of protecting your invention or intellectual property.

Research to Watch in 2018
CSU's research portfolio continues to flourish. Our faculty, staff, and students across campus are making a tremendous impact through new discoveries that help us understand and interact with the world around us, create new technologies, advance healthcare and education, and promote economic growth. Our research expenditures for 2016, the most recent year reported to the NSF Higher Education Research and Development (HERD) Survey, reached a record $77.7 million.
In celebration of this growth, the Office of Research and University Marketing have highlighted 11 research projects that could make a big impact in 2018. These projects will help us understand gene function to improve health and treat diseases, improve food safety, build better weather and climate models, enable mobility and personalized fitness, make smarter use of energy, and more.
To find CSU faculty whose research interests match yours, try searching for collaborators using the Faculty Expertise Database.

Novel Genomic Medicine: Multidisciplinary Research Seminar
Dr. Andrei Gudkov, Senior Vice President for Basic Science and the Garman Family Chair of the Department of Cell Stress Biology at the Roswell Park Cancer Institute in Buffalo, New York, will be featured at the next Multidisciplinary Research Seminar, hosted by the Office of Research on Friday, March 9, 2018. Dr. Gudkov, who is also an entrepreneur and founder of Cleveland BioLabs, Inc., will discuss the role of "silenced" retroelements of the mammalian genome (the "retrobiome"), and new opportunities to develop novel approaches to treat cancer and aging in his presentation "Retrobiome" and Longevity Clock Mechanisms. The seminar will take place from 12:00-1:15 pm in PH-104. Lunch will be provided.
Upcoming Research Seminars Across Campus
Reporting on Report Cards: Political Decisions and Their Potential Impact on the Public Dr. Jeffrey W. Snyder, Cleveland State University
February 20, 3:00-4:00 pm in Center for Innovation in Medical Professions Room 225
Reaction Engineering and Advanced Electrochemical Engineering Dr. Chelsea Monty, University of Akron
February 22, 3:00-4:00 pm in Washkewicz Hall 405
Sustainable Material Design and Synthesis: Creating Tools for Selective Reactions Relevant to Fine Chemical Production and Biomass Conversion Dr. Nicholas Brunelli, The Ohio State University
March 1, 3:00-4:00 pm in Washkewicz Hall 405

CSU Research on Display at Undergraduate Women in Physics
CSU's delegation of undergraduate women made a strong showing at the Great Lakes Regional Meeting of the 2018 APS Conference for Undergraduate Women in Physics (CUWiP), held January 12-14 at the University of Toledo.
Three research posters, all of which were supported by the Undergraduate Summer Research Award (USRA) program and/or the NSF-funded Soft Matter Physics Research Experiences for Undergraduates (Soft Matter REU) site at CSU, were presented at the conference:
Using a Staggered Herringbone Microfluidic Mixer to Synthesize Gold Nanoparticles
Jacqueline Matz, Chandra Kothapalli, Brian Hama (REU)
Studying the Volume Phase Transition of Polymeric Microgels
Samantha Hudson, Samantha Tietjen, Kiril Streletzky (USRA/REU)
Synthesis Optimization and Characterization of Polymeric Microgels
Samantha Tietjen, Samantha Hudson, Kiril Streletzky (USRA/REU)
Samantha Tietjen won the First Place Poster award for her poster presentation, selected from a field of 35 student research posters from top schools in Ohio, Michigan, Indiana, and western Pennsylvania. Congratulations to these student researchers and their faculty advisors!
_____________________________________________________________________________________________
Please share with us important news or updates on your research, scholarly, or creative activities. Updates may be related to a paper that has been accepted for publication in a high-impact journal, a book you've just published, your work that will be exhibited at a prominent institution, or other updates you wish to share with our office. Send details to j.yard@csuohio.edu and d.j.simon@csuohio.edu.
_____________________________________________________________________________________________
This newsletter is compiled and published by
The Office of Research