Thank You, President Berkman
As Dr. Ronald Berkman's presidential tenure draws to a close, the Office of Research would like to express our congratulations and sincere appreciation. Dr. Berkman has not only been a tremendous leader for CSU as a whole, but he's had an especially positive influence on research activity. During his tenure, research expenditures at CSU grew by 500%, to $84 million in 2017 (as reported to NSF). CSU's national rank as a research university improved from #261 to #161, based on NSF's latest published data for 2016.
President Berkman's tenure brought CSU's new $56 million engineering building and national recognition as an Innovation & Economic Prosperity (IEP) University by the Association of Public and Land-grant Universities (APLU). As Dr. Berkman leaves his presidential suite, we're grateful that he's put us in a position to continue our growth and momentum, and glad that he'll still be on campus as a faculty member in the Maxine Goodman Levin College of Urban Affairs. Whether his job title is President or Professor, Dr. Berkman will always be welcome in the Office of Research.

Bibo Li Receives NIH Equipment Award
Dr. Bibo Li, a professor in the Department of Biological, Geological, and Environmental Sciences (BGES) and a member of the Center for Gene Regulation in Health and Disease (GRHD), has been awarded $163,096 via a National Institutes of Health (NIH) S10 Shared Instrument Grant.
The Shared Instrumentation Grant Programs support the purchase of state-of-the-art, commercially available research equipment that enhances the research of multiple NIH-funded investigators. Dr. Li's S10 project is titled A Digital Laser Scanner Biomolecular Imaging System: Amersham Typhoon 5. Her research focuses on the function and structure of telomeres, which are proteins on the ends of chromosomes that protect against errors during DNA replication. Much of her work has focused on telomere function in Trypanosoma brucei, a protozoan parasite that causes human African trypanosomiasis (sleeping sickness).

Dakota King-White, CASAL
Dr. Dakota King-White joined the Department of Counseling, Administration, Supervision, and Adult Learning (CASAL) in fall 2016. She is a core faculty member and coordinator of school counseling in the CACREP-accredited counseling program. She has an extensive background in working in K-12 education, where she has served as a school counselor, mental health therapist, and administrator.
Dr. King-White studies the psychological, emotional, and behavioral effects of parental incarceration and strategies to developing mental health models in K-12 schools. Through her research she has designed a group counseling curriculum for children of incarcerated parents, which has been implemented within K-12 education. Her most recent tool for children of incarcerated parents is a children's book, Oh No! When a Parent Goes Away. Dr. King-White is passionate about children succeeding and believes that all students can succeed if given the right tools and opportunities.

Featured Researcher Video Series

Mark Holtzblatt, Accounting

Research by Dr. Mark Holtzblatt, an associate professor in the Department of Accounting, is the focus of this month's Featured Researcher Video. Dr. Holtzblatt's research focuses on international accounting and taxation, international financial reporting standards, and technology and accounting pedagogy.

Click here to watch.

CSU Student Wins NSF Fellowship

Congratulations to Ms. Kyra Rudy, a graduating senior in the Department of Mechanical Engineering (MCE), for her recent Graduate Research Fellowship Program (GRFP) award from the NSF. The GRFP provides three years of support for the graduate education of individuals who demonstrate potential for significant research achievements in STEM or STEM education.

Ms. Rudy has been a prolific researcher at CSU, including two summers working on Undergraduate Summer Research Award (USRA) projects in 2016 and 2017, and an Undergraduate Research Award (URA) project in 2018. All were performed under the guidance of Dr. Eric Schearer, an assistant professor in MCE.

Adam Sonstegard, English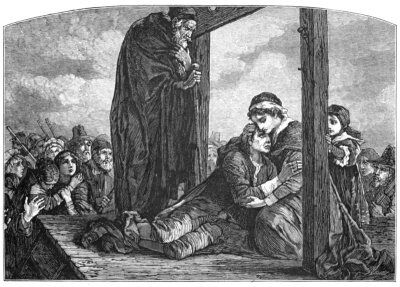 The climactic scene of The Scarlet Letter, as rendered by Mary Hallock Foote in 1878
Dr. Adam Sonstegard is an associate professor in the Department of English. His scholarship examines the role of illustrations that appeared in the original printings of American literary realists from the Civil War until World War I. These illustrations were often not authorized by the writer, but were still essential to the context of those works and how they were interpreted by readers. The artist's interpretation of the text might align with the writer's intent, or the artist could misconstrue or distort plot or character elements.
Many works from this time period are republished today without the artwork that originally accompanied the prose. Dr. Sonstegard's studies suggest that the absence of the original illustrations may obscure essential components of classic works of literature. He draws a parallel with adaptations of modern literary works to film, which are shaped by authors, screenwriters, and directors, noting that artists, authors, and literary agents had already "adapted" their arts to one another's mediums when literary realism first debuted.

Student Art Show and Merit Scholar Exhibition

Selt-Portrait by CSU freshman and Merit Scholar Lauren Zawie
The 47th Student Show and CSU Merit Scholar Exhibition are currently appearing at the CSU Galleries. The Student Show is a juried exhibition of works in all media by CSU students that is organized by the Student Organization for Fine Arts (SOFA). SOFA is advised by Russ Revock, an associate professor in the Department of Art and Design.
The Merit Scholar Exhibition showcases the works of CSU students majoring in Art who received merit scholarship support. This year's Merit Scholars worked in a wide variety of media, including photography, drawing, painting, printmaking and sculpture. Associate Professor Mark Slankard coordinates the exhibition, which runs from May 4 through June 9. The Student Show is housed in the South and Center Galleries, while the Merit Scholar Exhibition can be viewed in the North Gallery.

Invention Disclosure Pipeline

The European Patent Office has allowed the patent application titled Nano-Engineered Ultra-Conductive Nanocomposite Copper Wire, which names Dr. Taysir Nayfeh, a professor in the Department of Mechanical Engineering, as inventor. The invention relates to a method and apparatus for manufacturing ultra-strong nano-composite wire in a die-casting machine using copper material that has been pre-loaded with carbon nanotubes.

Contact Jack Kraszewski for assistance with a disclosure to begin the process of protecting your invention or intellectual property.

CSU Entrepreneurs Advance

A team of CSU MBA students has reached the semifinals of the Akron LaunchTown Entrepreneurship Awards. The PneuKinetics team is commercializing technology developed by Dr. Antonie van den Bogert, a professor and Chair of the Department of Mechanical Engineering. A provisional patent application, titled Exoskeleton System, was recently filed for the technology, which is a passive exoskeleton that helps patients regain walking ability and accelerates functional improvements both in daily life and in physical therapy. Commercialization partners are being sought. Contact Jack Kraszewski for further information.

Final MIRP Awarded to CLASS, CEHS, COSHP Team
The Office of Research is pleased to announce that the final Multi-College Interdisciplinary Research Program (MIRP) award has been granted to a multidisciplinary team with members representing the College of Liberal Arts and Social Sciences, (CLASS), the College of Education and Human Services (CEHS), and the College of Sciences and Health Professions (COSHP). Assistant professors Kimberly Fuller, Katie Clonan-Roy, Shereen Naser, and Elizabeth Goncy will carry out the project, titled "Sexual Health Information Access for Gender Minority Adolescents." The MIRP funding will allow the team to collect and interpret pilot data for a proposal to the National Institutes of Health (NIH).

CEHS Faculty Hold 2018 Action Research Showcase
The CSU Action Research Program, an innovative professional development (PD) model, held a research showcase on April 19 in Julka Hall to highlight activities by CSU faculty in partnership with the Cleveland Metropolitan School District (CMSD). The program is supported by the Martha Holden Jennings Foundation, and provides PD to K-12 teachers through teacher-driven action research. CSU professors from different colleges pair with K-12 teachers/staff and provide one-on-one mentoring to develop and conduct a one-year research project.
The Action Research Program is led by Dr. Grace Huang, an associate professor in the Department of Teacher Education. Eighty-five projects have been conducted since the program's launch in 2013. This year, thirty-four K-12 teachers partnered with seventeen CSU professors to conduct twenty-two projects.

Funding Resources for the Summer
Summer's arrival may mean the end of classes, but research and scholarship continue!
The Office of Research provides a range of resources to help faculty secure external funding to support their work. Every week, we prepare a curated list of funding opportunities that is sent via email to faculty members on Friday. If the weekly funding list doesn't have what you are looking for, you can utilize SPIN, a searchable database of grant opportunities from more than 10,000 global sponsors. SPIN is accessible from computers on campus, but requires an account for remote access (e.g., from home). If you don't have a SPIN account yet, you can follow these simple instructions to sign up.
_____________________________________________________________________________________________
Please share with us important news or updates on your research, scholarly, or creative activities. Updates may be related to a paper that has been accepted for publication in a high-impact journal, a book you've just published, your work that will be exhibited at a prominent institution, or other updates you wish to share with our office. Send details to j.yard@csuohio.edu and d.j.simon@csuohio.edu.
_____________________________________________________________________________________________
This newsletter is compiled and published by
The Office of Research