CSU Team Wins NSF Secure and Trustworthy Cyberspace Grant
Professors Ye Zhu, Xiongyi Liu, Haodong Wang, and Karla Mansour
A multidisciplinary team of faculty from the Washkewicz College of Engineering and the College of Education and Human Services (CEHS) has been awarded a grant under the NSF Secure and Trustworthy Cyberspace (SaTC) program. Dr. Ye Zhu, an associate professor in the Department of Electrical Engineering and Computer Science (EECS), will serve as PI on the two-year, $299,977 grant titled, "Game-Based Cyber Security Education on Anonymous Communication." The research team includes Drs. Xiongyi Liu and Karla Mansour, both associate professors in the Department of Curriculum and Foundations (C&F), and Dr. Haodong Wang, an associate professor in EECS.
The NSF SaTC program is aligned with the Federal Cybersecurity Research and Development Strategic Plan (RDSP) and the National Privacy Research Strategy (NPRS), which seek to protect and preserve the growing social and economic benefits of cyber systems while ensuring security and privacy. The CSU project will develop and implement a curriculum that will teach students about anonymity networks using game-based learning. Anonymity networks allow users to remain anonymous and are becoming increasingly popular. Students completing the curriculum will be able to apply this knowledge to combat a range of cybersecurity attacks when they enter the workforce.

Carol Olszewski, Music
Carol Olszewski joined Cleveland State in 2016 as an assistant professor of music therapy in the Department of Music, after having served as an adjunct and visiting professor since 2013. Her clinical research interests include music perception and processing, clinician development, music therapy program equity, and neural processing of individual music elements through typical and atypical hearing mechanisms. Prof. Olszewski is currently pursuing a PhD in Adult, Continuing, and Higher Education in CSU's Urban Education program, focusing on adult learner development and faculty socialization.
Prof. Olszewski has been a board-certified music therapist for over 15 years, having practiced with a wide variety of populations and settings. Prior to joining CSU, she worked as a research team coordinator on the University of Iowa's Music Perception Project, as part of a comprehensive NIH grant for cochlear implant research.

Featured Research Video Series

Undergraduate Summer Research

Research performed by Cleveland State University undergraduates under projects funded by the Undergraduate Summer Research Award (USRA) program is the focus of this month's Featured Research Video.

The USRA program provides undergraduate students with a summer learning experience that involves intellectual inquiry and faculty mentoring, and fosters an engaged environment that promotes a culture of student involvement in research and scholarship.

Click here to watch.

Celebrating NIH R01 Awards

The Research Project Grant (R01) is the original grant mechanism used by the National Institutes of Health (NIH), and is often referred to as the "gold standard" of independent biomedical research. Six CSU faculty currently hold R01 awards. Drs. Valentin Börner, Hee-Sook Kim, Roman Kondratov, Bibo Li, Moo-Yeal Lee, and Barsanjit Mazumder were honored for their research accomplishments during a lunch at the Union Club with President Harlan Sands and VP for Research Dr. Jerzy Sawicki. In the photo below, the lunch participants are joined by the chair of the CSU Board of Trustees David Gunning.


(L. to R.) David Gunning, Moo-Yeal Lee, Bibo Li, Valentin Börner, Roman Kondratov, Harlan Sands, Jerzy Sawicki, and Barsanjit Mazumder. Not pictured, Hee-Sook Kim.

Irina Koukhanova, Art and Design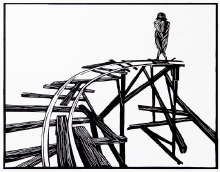 Last Man Standing by Irina Koukhanova.
Irina Koukhanova, MFA, is a professor of sculpture and the new chair of the Department of Art and Design. She was a CPAC Creative Workforce Fellow in 2016 and a recipient of a CSU FSI award in 2017. Her creative work focuses on looking into the past in order to deconstruct the present and find common denominators. Prof. Koukhanova combines sculpture (bronze casting, metal, and wood fabrication), printmaking and painting to achieve an integration of two-and three-dimensional space.
Her work has been featured in numerous national and international exhibitions, including DKO Galerie in Zurich, Switzerland, Boxheart Gallery, Pittsburgh, PA, the Snite Museum of Art, Notre Dame, IN, and Boston Sculptors Gallery, Boston, MA, among others. Prof. Koukhanova's public art commissions can be found in Michigan and Ohio, and her work was featured locally in the project Rooms to Let in Slavic Village in July.

CSU Wind Ensemble and CSU Jazz Ensemble in Concert Oct. 4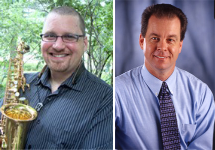 Profs. John Perrine (left) and Birch Browning
The CSU Symphonic Wind Ensemble and the CSU Jazz Ensemble will hold their first performances of the semester on October 4. The CSU Wind Ensemble is conducted by Dr. Birch Browning, a professor in the Department of Music, and will perform two Leonard Bernstein pieces, "Overture to Candide" and "Four Dances from West Side Story," as well as "Symphony No. 3 for Band" by Vittorio Giannini.
Conducted by Dr. John Perrine, a professor and chair of the Department of Music, the twenty-one piece CSU Jazz Ensemble will play the music of Maria Schneider, Cole Porter, Glenn Miller and others. The concert will be held on October 4 at 7:00 pm in Drinko Recital Hall, in the CSU Music and Communication Building. Admission is free and open to the public, and the performance will be broadcast live at http://new.livestream.com/CSUMusic.

News from the Technology Transfer Office

Patent Pipeline @ CSU

3-D Printed Miniature Biological Constructs

During its review of a patent application for Dr. Moo-Yeal Lee, an assistant professor in the Department of Chemical and Biomedical Engineering (CBE), the United States Patent and Trademark Office found that the application contains two distinct inventions. This may result in an additional patent application as a companion to Dr. Lee's U.S. Patent Application No. 15/404,291, titled "3D-Printed Miniature Biological Constructs."

Systems and Methods for Privacy-Aware Motion Tracking

A non-final office action was received from the United States Patent and Trademark Office (USPTO) regarding a patent application for Dr. Wenbing Zhao, a professor in the Department of Electrical Engineering and Computer Science (EECS). The office action for U.S. Non-Provisional Patent Application Serial No. 15/190,669, titled "Systems And Methods For Privacy-Aware Motion Tracking With Notification Feedback," relied on incorrect prior art. The USPTO examiner will be asked to allow the application or cite the correct prior art.

Best Poster Prizes Awarded for Undergraduate Research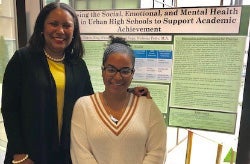 First-Place Winner Sadé Vega and
faculty mentor Dr. Dakota King-White
Undergraduate research students presented their work at the 2018 Undergraduate Research Poster Session on September 6. Students and faculty discussed research that was funded by the Undergraduate Summer Research Award (USRA) Program and the McNair Scholars Program. The session included a total of 74 posters from six CSU colleges.
Sadé Vega earned first place (a $200 gift card) for her project "Assessing the Social, Emotional, and Mental Health Needs in Urban Schools to Support Academic Achievement." She conducted her research under the supervision of Professor Dakota King-White, an assistant professor in the Department of Counseling, Administration, Supervision, and Adult Learning (CASAL), and Mr. Nicholas Petty, Director of Undergraduate Inclusive Excellence.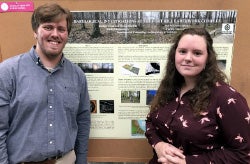 Second-Place Winners
Michael Dodrill and Bridget Coyne
Michael Dodrill and Bridget Coyne earned second place (a $150 gift card) for their project "Archaeological Investigations at the Fort Hill Earthwork Complex." They conducted their research under the supervision of Dr. Phil Wanyerka, a lecturer in the Department of Criminology, Anthropology, and Sociology (CAS).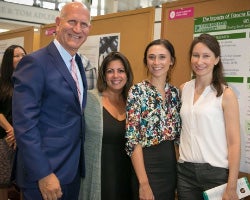 Third-Place Winners Laura Wimberley and Shelby Smith (center left and center right) with Dr. Meghan Novisky and President Harlan Sands
Laura Wimberley and Shelby Smith earned third place (a $100 gift card) for their research "The Impacts of Trauma Exposure and Differential Access to Medical Services on the Incarceration Experience." They conducted their research under the supervision of Dr. Meghan Novisky, assistant professor in the Department of Criminology, Anthropology, and Sociology (CAS).
There were many high-quality posters that provided an impressive demonstration of the scholarship and faculty-student collaborations at CSU. The Office of Research congratulates all of the students and their mentors, and encourages undergraduate and graduate students to continue to be actively engaged in research.
For more information on the 2018 Undergraduate Research Poster Session, click here. Poster abstracts and images are available for viewing on EngagedScholarship-@-CSU, a service of the Cleveland State University libraries.

Multidisciplinary Research Panel Series
The Office of Research launched the new Multidisciplinary Research Panel Series to help CSU's researchers connect with other faculty from diverse disciplines, learn about future directions in research, and share ideas.
The second panel of the series, "Multidisciplinary Research in the Field of Substance Abuse: Innovative Strategies and Lessons Learned," will begin at 12:00 p.m. on October 19. The session will be moderated by Cathleen Lewandowski (Social Work) with panelists Patricia Stoddard-Dare (Social Work), Miyuki Tedor (CAS), and Wendy Regoeczi (CAS). All seminars will be held in PH-104, and the full seminar schedule can be found here.
Upcoming Research Events Across Campus
What is Digital CSU? Meet and Greet
September 18, 11:30 am – 12:30 pm in RT502
Levin College Forum: The Internet of Things
October 4, 4:00 – 6:00 pm in the Roberta Steinbacher Atrium (Urban Building)
Modeling Ion Conduction through Block Copolymers Dr. Lisa Hall, The Ohio State University
October 11, 3:00 – 4:00 pm in Washkewicz Hall 405
Faculty Research Happy Hour
October 19, 4:30 – 6:00 pm at Elements Bistro

IoT Course Development Funding
The CSU Office of Research, in conjunction with the Internet of Things (IoT) Collaborative, is seeking proposals for the development of innovative courses focused on the Internet of Things and the application of connected devices, including emerging and adjacent technologies. Proposed courses should be appropriately aligned with CSU curricula (including prerequisite courses, applicability to existing or new majors/minors/concentrations, potential applicability for continuing education, etc.). Proposal guidelines can be found here.
Funding for pilot research projects that include Co-PIs from both CSU and CWRU is also available. Details can be found here.

Help Collaborators Find You - Update Your Faculty Profile
The Office of Research created the Faculty Expertise Database and the Innovation Portal to increase the public's access to Cleveland State's knowledge base and to foster new research collaborations and partnerships. Now, the Ohio Department of Higher Education is launching a similar statewide portal, the Ohio Innovation Exchange (OIEx), to improve research collaborations among Ohio's universities and increase university/industry partnerships. Data for an initial cohort of faculty is being uploaded to the OIEx website, and many data elements mirror the information contained in CSU's Faculty Expertise Database. Accurate information is critical to both of these systems.
To get the most out of these resources, update (or create) your faculty profile by following these easy steps:
1. Create or update information in your faculty profile by following this link
2. Add relevant terms to the "Research Keywords" section of your faculty profile to help partners and funders find you through the Faculty Expertise Database
3. Add your picture to your profile page (replacing the stock image) by sending a photo to facultyprofile@csuohio.edu

Research with Human Participants: IRB @ CSU
| | | |
| --- | --- | --- |
| Dr. John Jeziorowski | | Dr. Jason Halloran |
The CSU Institutional Review Board (IRB) serves to protect human participants in research conducted by CSU faculty, staff, and students. The IRB strives to ensure that research investigators adhere to high standards of research ethics, comply with federal, state, and local laws and regulations, and consider the rights and welfare of research participants. The IRB is currently reviewing and revising its Policy and Procedures Manual to comply with the Revised Common Rule, a federal policy for human subject protection that will go into effect January 2019. The Common Rule constitutes federal regulations that the IRB is obligated to interpret and apply to research protocols that are submitted for review.
This summer, the IRB added two members, Prof. Joan Thoman, interim associate dean and professor in the School of Nursing, and Prof. Cyleste Collins, an assistant professor in the School of Social Work. In addition, Prof. Jason Halloran, assistant professor in the Department of Mechanical Engineering, has been appointed to serve as the faculty liaison to the IRB. Investigators who encounter difficulties that are not readily resolved by the IRB are encouraged to contact Dr. Halloran for assistance.
If your class or program would like to meet with the CSU IRB chair to discuss the review process, please contact the IRB chair, John Jeziorowski, j.jeziorowski@csuohio.edu; or the administrative coordinator, Mary Jane Karpinski, 687-3624.
_____________________________________________________________________________________________
Please share with us important news or updates on your research, scholarly, or creative activities. Updates may be related to a paper that has been accepted for publication in a high-impact journal, a book you've just published, your work that will be exhibited at a prominent institution, or other updates you wish to share with our office. Send details to j.yard@csuohio.edu and d.j.simon@csuohio.edu.
_____________________________________________________________________________________________
This newsletter is compiled and published by
The Office of Research